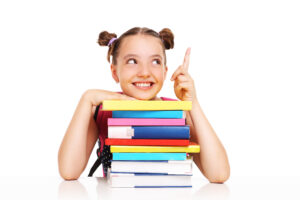 Your children will soon be heading back to school! You'll be getting them ready by buying new supplies, but don't forget about their smiles. A back-to-school checkup from your Shirley, NY, pediatric dentist and orthodontist can help your little ones start class with healthy and shining smiles!
Checkups and Cleanings
A checkup is a great way to get started on making sure your child's smile is ready for school. With digital x-rays, we will offer a diagnosis with precision and accuracy, so we can identify the earliest stages of concerns like tooth decay, allowing us to plan treatment and address concerns so your kids don't deal with toothaches during the school year. In the same visit, we will clean the teeth thoroughly too. The dental cleaning involves removing all plaque and tartar from the surfaces of the teeth with an ultrasonic scaling device and a manual tool. We then polish the teeth thoroughly, so your child has a brighter smile and the smoother surface makes it less likely for plaque deposits to form before their next six-month visit.
Preventing Cavities
Our team could also offer unique preventive treatments to keep cavities away. During the checkup visit, we can apply a topical fluoride gel to the teeth, which helps strengthen the weakened portions of the smile to fight tooth decay and keep smiles comfortable. Since many kids have trouble reaching the rear teeth when they brush and floss, we can offer dental sealants. These plastic layers cover the molars and prevent food and drink particles from being stuck between the teeth. The layers can stay in place for years to come, lasting ten in some cases! They wear away on their own, and cling the longest to the more vulnerable parts of your tooth.
Starting Orthodontic Care
If we see warning signs of developing misalignment, then our team could discuss orthodontic care for kids to help address the issue. With our Phase One orthodontics, we can use custom retainers and space maintainers to ease the severity of misalignment and help guide the growth of the smile. When your child's permanent teeth all erupt and the surfaces calcify, we can use braces or aligners to finish shifting the teeth into optimal positions. If you have any questions about how we prepare little smiles for starting school, or about our childhood orthodontic treatments, then contact our team today to learn more.
Schedule Your Child's Back-To-School Visit In Shirley, NY
We want to make sure your little one starts the new school year with a brighter and healthier smile! For more information on our preventive treatments or to schedule an appointment, call us at Shirley Orthodontics and Pediatric Dentistry in Shirley, NY at (631) 399-1600.