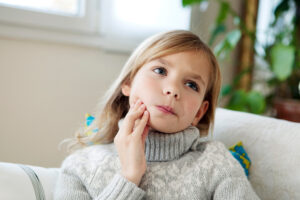 When your child has a toothache, don't ignore this pain in your smile. Instead, talk to our team and schedule a consultation. Your little one may have a cavity that needs treatment before the tooth becomes infected or abscessed! In today's blog, your Shirley, NY, pediatric dentist and orthodontist looks at the warning signs of a cavity and talks about our preventive treatment options.
Common Symptoms of Tooth Decay
How do you know if your child has a cavity? If you attend six-month checkup and cleaning visits with our team, then we will be able to identify the issue in the earliest stages, often before your kids experience discomfort at all. Otherwise, you may not know they need treatment until they report tooth sensitivity when they eat and drink, or a toothache that doesn't pass after a day or two. When your kids experience aches in their teeth, schedule a consultation with our team. We will provide an examination with precis on and accuracy using digital x-rays and intraoral camera images, so we plan their treatment in detail and protect smiles from complications!
The Risk of Dental Infection
Tooth decay will grow and spread throughout your tooth unless treated, and will eventually lead to a painful infection. Once a tooth is infected or abscessed, the risk of tooth loss increases significantly. When kids lose baby teeth prematurely, this could lead to misalignment and other complications. Which is why decay in baby teeth still needs attention, even if they eventually fall out. When we discover a cavity, we can treat it in one visit with a dental filling, one that is designed to blend with your smile and one that is safe for kids of all ages, from babies and toddlers to teens.
Prevention
To treat a cavity, we can place a filling in one visit. But we also have unique treatments like fluoride varnish and dental sealants to help strengthen little smiles and keep cavities at bay for children. To lower your little one's risk of future cavities from home, be sure you consume less sugar and starch in their drinks and snacks, and also take time to brush and floss daily to remove stray food and drink particles, limiting plaque buildup until your next cleaning visit. If you have any questions about treating childhood tooth decay with a dental filling, then contact our team today.
Your Shirley, NY, Pediatric Dentist is Ready to Treat Your Cavity
With good oral hygiene and preventive treatments, you kids can avoid cavities. If you want to learn more about preventing and treating cases of tooth decay for kids, then contact Shirley Orthodontics and Pediatric Dentistry in Shirley, NY, by calling (631) 399-1600.