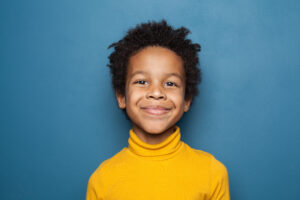 By teaching your child the importance of oral hygiene, they can practice their brushing and flossing skills to maintain a healthy smile. To complement these practices, you should schedule regular dental checkups to receive professional cleanings and an examination of their daily efforts. Because kids are still mastering their at-home care, these routine visits help prevent damage from oral plaque and detect cavities and other harms shortly after they appear. This means that a six-month schedule helps us repair decaying teeth before cavities have a chance to get out of hand. Early detection can lead to a more conservative treatment such as a dental filling over a more involved procedure with a dental crown.
At your Shirley, NY, orthodontist and pediatric dentist, we take a preventive attitude toward helping children care for their smiles. This means removing plaque and tartar regularly to protect the integrity of their smile's enamel. By restoring teeth when we discover signs of decay, we help them maintain the alignment of their bite to aid the proper development of their jaw.
How Cavities Develop In Children's Teeth
When a child's first baby tooth appears, it is time to begin brushing their teeth until they are old enough to take over cleaning their smile. Kids' teeth are just as susceptible to decay as their parents, and your little one may have trouble resisting cavity-causing sweets! Without regularly removing plaque, it creates a sticky film on the smile's surface that can wear to the enamel. As oral bacteria feed on remnants from your child's meals, they produce an acidic byproduct that breaks down the tooth's healthy material. By staying on top of your child's pediatric appointments, we can thoroughly clean their teeth and detect cavities whenever they take hold.
Placing Dental Fillings To Strengthen Little Smiles
As soon as we discover a cavity, we will recommend removing it right away to stop its spread. By taking digital X-rays of the decay, we can better understand the size and extent of the damage to their tooth. For appropriately sized carries, we will place a dental filling after removing all decaying material from the affected area. By relying on composite dental resins, we shade their restoration to match the rest of their little smile. Resealing the outside of the tooth prevents decay from entering and taking hold again after removing the cavity.
Talk To Your Shirley, NY, Orthodontist, and Pediatric Dentist About Scheduling A Checkup To Fight Decay
You can help your child adopt healthy habits for life by introducing them to routine dental care! To find out more aboon how we can help treat decay or any other oral health issue, contact Shirley Orthodontics and Pediatric Dentistry in Shirley, NY, by calling (631) 399-1600.