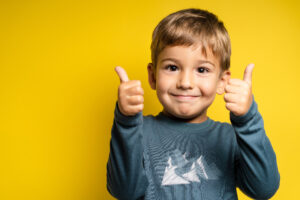 Learning habits to best protect your smile begins in early childhood. This is because kids, just like their parents, are susceptible to the tooth-eroding effects of oral plaque. By scheduling your child's first dental appointments, you provide the opportunity for them to learn the importance of brushing and flossing from a professional. These visits allow us to see that their teeth are growing in on schedule and in the proper position. By examining the results of their at-home care, we create teachable moments when highlighting areas that may need a little more attention.
At your Shirley, NY, pediatric dentist and orthodontist, we encourage you to bring your little one in at least twice per year to receive preventative care. At this critical time in their development, protecting their teeth from cavities and gum disease helps build strong smiles that last the rest of their lives. You can set a positive example by scheduling your appointments with us as well as we serve all members of the Shirley, NY community. By taking time to learn the importance of early childhood dental visits, you can give your young one the care they deserve!
When Should Children Begin Visiting The Dentist
We recommend bringing in your child for their first checkup when their first baby tooth comes in or by their first birthday. At this meeting, we will perform an introductory knee-to-knee lap exam to help your son or daughter become comfortable with the dental office. We then suggest bringing them in on a semiannual basis beginning around age two. By visiting throughout their developmental years, we can create a dental record that their smiles are growing healthily as expected. Each examination allows us to quickly remove threats such as cavities when they do appear, but before they can get out of hand.
Special Treatments For Kids
Because kids are still learning to fully brush the entirety of their smile, we provide additional services to help them fight tooth decay. We can perform fluoride treatments that remineralize the enamel on the surface of their teeth. After avoiding eating or drinking for 30 minutes following application, your child may return to normal activities.
Another tool in our kit against decay is dental sealants. This treatment creates a physical barrier between your child's molars and oral bacteria, debris, and plaque that can get stuck on the surface of their teeth. Sealants gradually wear away over time, meaning they offer protection for years without the need for a follow-up procedure to remove them from your child's smile.
Schedule Your Child's Next Dental Appointment In Shirley, NY
If it has been more than six months since your child's last dental appointment, we would love to provide our services! For more information or to schedule an appointment, call us at Shirley Orthodontics and Pediatric Dentistry in Shirley, NY at (631) 399-1600.