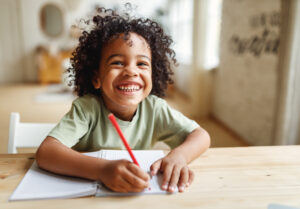 When a filling isn't enough to address the issues with your child's smile, then we may recommend a dental crown! Each one is custom made and when possible, we use lifelike materials that blend with the smile. In today's blog, your Shirley, NY, pediatric dentist and orthodontist talks about crowns for children!
The Reasons to Prescribe a Dental Restoration
A child may need a dental crown to address tooth decay too severe to be treated with a simple dental filling. If your child has an infected tooth, then this could be the last step in a pulpotomy, protecting the tooth and stopping discomfort. We could also address damaged teeth following a dental emergency, and even improve bite balance and overall chewing capabilities. We could recommend one for a number of different reasons, and we take time to ensure a comfortable fit and optimal results, safeguarding little smiles for years to come.
The Materials We Use
We use different materials depending on the location of the tooth being restored. For example, the side and rear teeth must endure great bite forces and pressures, so we tend to opt for stainless zirconia, or porcelain-fused-to-metal. The font facing teeth are much more visible, so our team could use all porcelain and shade it to blend with the teeth. When possible, our team wants to opt for the material that best blends with the smile and offers a natural appearance, so your little ones don't feel self-conscious about showing off their beautiful smiles!
The Placement Process
To begin, we will take detailed digital images of the teeth from multiple angles. These detailed images are displayed instantly chairside, and allow us to make a diagnosis with precision. We then numb the tooth and gently remove structure to make room for the restoration. An impression is taken and used by the lab technician to design and fabricate the restoration. When the finished product is ready, we will check the fit and make any necessary adjustments. Finally, our team will attach the crown. Your little one then leaves with a whole and beautiful smile!
If you have any questions about dental crowns, or about children's dentistry in particular, then please don't hesitate to reach out! We look forward to helping your little one enjoy his or her best possible smile.
Your Shirley, NY, Orthodontist and Pediatric Dentist Offers Restorations for Kids   
Our team wants to ensure kids of all ages in our community enjoy their healthiest smile, whether that means conducting a simple checkup and cleaning, or restoring a tooth with a custom-made dental crown. To learn more about the restorations we offer for kids, then contact Shirley Orthodontics and Pediatric Dentistry in Shirley, NY, by calling (631) 399-1600.