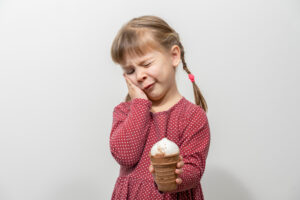 When a child has tooth decay that is too severe for a filling, or has issues with bite balance and chewing function, then we may offer a solution with a dental crown. These restorations can offer quality protection, and sometimes a lifelike appearance too. In today's blog, your Shirley, NY, pediatric dentist and orthodontist talks about custom crowns.
When Kids Need Dental Repair
A crown covers the entire visible portion of your child's tooth, so we can address a number of serious oral health issues and protect smiles from complications like tooth loss and discomfort. For example, placement could repair chips, cracks, or breakage, and also damage brought on by teeth grinding. We could use them to improve overall bite balance and chewing function. Restoration helps address decay too severe for a filling, and can complete a pulpotomy if your child has an infection. As you can see, they offer the ability to improve the health, function, and in some cases, the appearance of your child's smile.
Creating Restoration for Children
First, our team will take detailed images of the teeth with intraoral cameras and digital x-rays. We do this after removing structure from the teeth to make room for the crown. With local anesthesia and sedation, we can ensure your child is comfortable the entire time. We then use the impressions we take to design and craft a dental restoration. After our team creates it, we will check the fit and make any necessary adjustments before we secure the crown with a powerful bonding agent. We could use stainless steel for the side and rear teeth, which must endure greater bite forces. But for the front facing teeth, we could use zirconia, which is strong and more lifelike in appearance.
Safeguarding Little Smiles
Care can then be taken to protect little smiles from injury or decay. If they play full contact sports, be sure they wear a mouthguard. At home, make sure they brush twice a day with a fluoride toothpaste and floss every evening, as this fights issues like tooth decay and infection. Finally, bring them in for a simple checkup and cleaning appointment every six months. These actions may seem minor, but they help protect little smiles from the onset of tooth decay, infection, and injured teeth.
If you have any questions about how we repair smiles with dental crowns, or if you need to set up your child's next checkup and cleaning visit, then contact our team today.
Your Shirley, NY, Orthodontist and Pediatric Dentist About Our Restorations
With restorative dentistry, our team can help protect your child's smile. To learn more about placing restorations for children with decay or damaged teeth, then contact Shirley Orthodontics and Pediatric Dentistry in Shirley, NY, by calling (631) 399-1600.