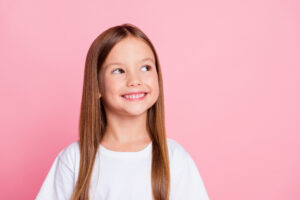 When you have a child with tooth decay or an injured tooth, then a restoration could protect them from worsening pain and complications. We have durable and long-lasting restorations to help their smiles. In today's blog, your Shirley, NY, pediatric dentist and orthodontist talks about how we can strengthen little smiles with our dental crowns.
When Kids Need Crown Placement
When does your child's tooth require a complete restoration? A dental crown covers the visible portion of a tooth, everything above the gum line, making it the optimal choice for serious restorative concerns. For example, we could place them to help improve bite balance and boost chewing function. Placement also addresses severe damage, such as fractures, chips, and breakage, and also correcting misshapen teeth too. We've used dental crowns to treat advanced tooth decay, and to complete a pulpotomy for an infected tooth as well.
Stainless Steel vs. Zirconia
We often make them from one of two materials. The side and rear teeth endure serious bite forces and pressures, which means you need a durable restoration to ensure your child enjoys improved chewing function. For these teeth, we could use stainless steel options. The more front facing teeth are visible when your little one talks and laughs, we opt for a more attractive one when possible. NuSmile zirconia options are very durable, but also more lifelike in appearance. We can talk to you about our options, and choose one that is best for your kids.
Placement and Care
To begin, we will carefully examine your child's smile with advanced imagery to ensure treatment that improves function, stability, and health. We then numb the tooth receiving a crown so we can gently remove structure from it. Our team will then attach the dental restoration to it with a powerful bonding agent. The finished product can stay in place for years to come, protecting your child's smile. With routine visits for checkups and cleanings, we can keep an eye on your child's smile as they grow and develop, so we identify areas of concern, often before they require a substantial option like a dental crown. Keeping the restoration strong simply means maintaining good oral hygiene which also helps your natural teeth too. Kids need to brush and floss daily, see us every six months, and enjoy a healthier diet, one low in sugar and starch.
If you have any questions about how we repair and restore little smiles with our custom dental crowns, then contact our team today.
Your Shirley, NY, Orthodontist and Pediatric Dentist Places Restorations
We would love to help safeguard your child's smile. To learn more about how we repair and protect little smiles, then contact Shirley Orthodontics and Pediatric Dentistry in Shirley, NY, by calling (631) 399-1600.