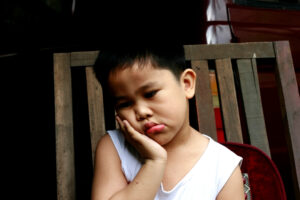 We've recently talked about how placing a filling can treat cavities in little smiles. But if a concern is too severe for a dental filling, then our team may recommend a dental crown. In today's blog, your Shirley, NY, pediatric dentist and orthodontist talks about how we place dental crowns.
The Need for a Dental Restoration
A dental crown covers the entire visible portion of a tooth, which means we can address a variety of minor or serious restorative concerns, and also improve the aesthetics of the tooth at the same time. For children, we could use a dental crown to treat tooth decay too severe for a filling, or to complete a pulpotomy procedure should a tooth develop an infection or abscess. We've also used them to restore a tooth, which not only improves esthetics, but can enhance bite balance to prevent complications with chewing or bite function. If your child attends routine six-month visits, then we can likely identify problems early on and treat them before uncomfortable symptoms arise. Otherwise, you may not know your child needs treatment until he or she complains about painful symptoms.
Creating and Securing a Dental Restoration
To create a dental crown, our team will first carefully examine the smile with digital technology to make a diagnosis with precision. We then numb the tooth to ensure your child is comfortable as we remove structure from the tooth and take detailed images for the design and fabrication process. If your children have anxiety, we can also offer sedation to help them enter a calm and relaxed state. When the restoration is ready, we will attach with a bonding agent. We could create crowns from stainless steel, as these can absorb the daily bite forces required for side and rear teeth. Zirconia could also be employed, as this offers a more attractive appearance.
Taking Steps to Safeguard Smiles
To help protect little smiles moving forward, consider bringing them in for checkups and cleanings every six months. Now is a great time to schedule the first one of 2023! You should also make sure they brush and floss daily, and that they also avoid too much sugar and starch in their diets. If you have any questions about how we diagnose and treat oral health concerns in little smiles, then contact our team today to learn more. We want to help your children enjoy optimal oral health.
Your Shirley, NY, Orthodontist and Pediatric Dentist Offers Custom Restorations
We would like to help you find the right solution for your child's oral health concerns! To learn more about treating dental damage or tooth decay, then contact Shirley Orthodontics and Pediatric Dentistry in Shirley, NY, by calling (631) 399-1600.