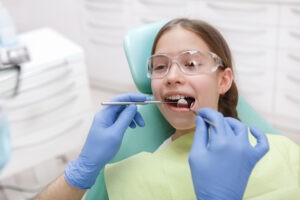 We provide pediatric dental care to help kids, from treating tooth decay to placing custom restorations. Our team also provides phased orthodontics to help correct misalignment for kids and teens. To ensure these treatments are provided with precision, your Shirley, NY, pediatric dentist and orthodontist employs advanced technology.
Digital X-Rays
We want to diagnose your child's smile with precision and accuracy, so we can choose the right treatments to help improve their oral health or correct their misalignment. Instead of traditional x-rays, we use a digital alternative. This means no need to use uncomfortable bitewings, and the images will be available instantly chairside, so we can limit how long your little one has to wait in the chair. The x-rays use 90% less radiation as well! Our team can use detailed images of the teeth, roots, gums, and oral structures so we can identify areas of concerns in the early stages, and plan treatment with precision and accuracy.
iTero® Scanners
Our team provides lifelike crowns, as well as custom orthodontic appliances, such as retainers and space maintainers. We can also create Invisalign® aligners for teens. But to create these items and custom-fit them for your child's smile, we use advanced technology. With the iTero® scanner, our team uses a tiny digital camera at the end of a thin wand to gather detailed images of your child's smile from multiple angles. We combine these images to create a 3D impression, one far more detailed than a traditional physical impression. Also, no need for molds filled with gooey materials!
We then design the appliance or restoration, and upload the information into an onsite milling machine, which helps us craft the item in-office with precision. We can 3D print items to help your child enjoy better oral health, or to start their journey to an even smile.
Start Care Today!
If you want to start your child's journey to an even smile, or to combat issues with poor bite balance, tooth decay, or infection, then schedule a visit today. Our team will offer a thorough diagnosis and examination, and create a personalized treatment plan to begin improving your little one's smile. If you have any questions or concerns about this process, or if you're ready to schedule a visit, then contact our team today to learn more.
Your Shirley, NY, Orthodontist and Pediatric Dentist Offers Healthier Smiles
We want to offer care with precision and accuracy using the latest in advanced technology. To learn more about the technology we use to help children's smiles, then contact Shirley Orthodontics and Pediatric Dentistry in Shirley, NY, by calling (631) 399-1600. We want to help your little ones enjoy their best possible smile, and to gain a better understanding of their own oral health.