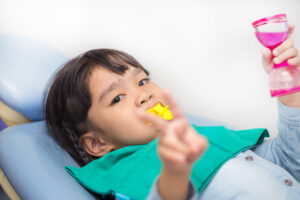 Tooth decay can impact babies, toddlers, kids, and teens. Without treatment, even in baby teeth, this could mean painful infection and premature tooth loss, which in turn leads to dental misalignment. But our team can offer a preventive treatment to fight decay! In today's blog, your Shirley, NY, pediatric dentist and orthodontist talks about fluoride treatments.
The Causes of Tooth Decay in Little Smiles
Children are very susceptible to tooth decay. For babies, this could occur when they fall asleep or nap with a bottle of milk or juice. For toddlers, kids, and teens, a diet high in sugar and starch, combined with infrequent or improper brushing and flossing, could lead to major plaque buildup that erodes enamel and makes cavities possible. Lack of professional cleaning every six months to remove the plaque and tartar are also possible causes. Kids then develop toothaches, and without treatment, infections. This could mean the risk of tooth loss and the onset of dental misalignment. But our team could provide options to help prevent the sonnet of tooth decay, such as our topical fluoride treatments.
Treatment
Fluoride is a mineral that occurs naturally, and has been shown to lower the risk of cavities by protecting the weakened portions of outer tooth structure. Our team can apply this to the outside of the teeth with a brush, tray, or swab. The process takes minutes, and kids need to avoid food and drink for about 30 minutes. We typically apply these during each checkup visit. This helps lower the risk of tooth decay, allowing kids to avoid toothaches and protecting the stability and health of their smile.
Toothpaste and Tap Water
To fight cavities, kids also need to brush every day, once in the morning and again at night. Each session should take about two minutes. Even babies need to have their teeth cleaned daily, usually with a cloth or toothbrush that fits over a parent's finger. Fluoride toothpaste can help fight cavities and safeguard their smiles. Children under the age of three should use only a rice seized amount of toothpaste, while kids over the age of three need to use a pea sized amount. Look for fluoride on the packaging, or the American Dental Association's (ADA) Seal of Acceptance.
If your community's tap water contains fluoride, make sure your kids drink plenty of water to not only cleanse their mouth of food and drink particles, but to strengthen their enamel too!
Your Shirley, NY, Orthodontist and Pediatric Dentist About Preventing Cavities
We would like to help kids enjoy healthy smiles for years to come. To learn more about avoiding issues like cavities, then contact Shirley Orthodontics and Pediatric Dentistry in Shirley, NY, by calling (631) 399-1600.