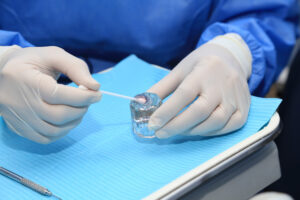 We recently blogged about dental sealants, which can safeguard the rear molars from tooth decay. But during each of your child's checkup and cleaning visit, we can apply a fluoride gel to strengthen the teeth. In today's blog, your Shirley, NY, pediatric dentist and orthodontist talks about the benefits of fluoride.
How Fluoride Strengthens Outer Enamel
Fluoride is a mineral that occurs naturally, and actually strengthens the outer enamel to fight tooth decay. In fact, in communities where fluoride is added to the drinking water, the rate of tooth decay drops in all age groups. Which is why we want to offer this in a topical gel form during each of your child's checkup and cleaning visits. This can help strengthen the outer enamel to keep cavities at bay, which is especially important as young children often have limited dexterity that can make thorough brushing and flossing difficult.
Applying the Topical Gel
Starting at age two, we want to see your children every six months for a checkup and cleaning. During the exam, we diagnose any concerns and then create a treatment plan to address them and restore health and function to the smile. We then clean the teeth, which involves removing all harmful plaque and tartar from the teeth to lower the risk of tooth decay. In the same sitting, we will apply the topical gel to the teeth. We do so with a tray, swab, or a brush. Kids then avoid eating or drinking for about 30 minutes. The entire process takes only minutes, but helps keep teeth strong and cavity-free. We could also apply dental sealants as well, further protecting the vulnerable rear teeth.
Toothpastes and Tap Water
If your community has this mineral in the tap water, the drinking water not only rinses away trapped food and drink particles, but also keep the outer enamel strong. We also suggest kids three and younger use a rice sized amount of fluoride toothpaste when they brush twice a day, and that kids three and older use a pea sized blot. These actions can help further protect the smile and help kids enjoy optimal oral health.
If you have any questions about how we can strengthen the teeth with preventive treatments and fight tooth decay, or about scheduling your child's next checkup and cleaning visit, then contact our team today to learn more. We look forward to hearing from you!
Your Shirley, NY, Orthodontist and Pediatric Dentist Fights Childhood Cavities
Our team wants to help kids enjoy strong and healthy smiles with routine care. To learn more about treating or avoiding painful tooth decay in little smiles, then contact Shirley Orthodontics and Pediatric Dentistry in Shirley, NY, by calling (631) 399-1600.