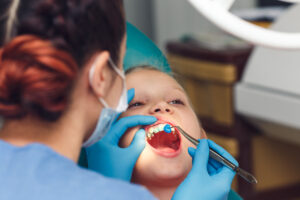 Tooth decay forms when the outer layer of enamel is weakened and eroded. But our team can offer a preventive treatment to help avoid this, strengthening the outer enamel. In today's blog, your Shirley, NY, pediatric dentist and orthodontist talks about fighting cavities with our fluoride treatments.
The Onset of Tooth Decay
How does a tooth develop a cavity? For kids and adults, trouble could be due to a diet high in sugar and starch, as these ingredients feed harmful oral bacteria and increase the risk of plaque buildup. Lack or proper brushing and flossing could be a factor too, as this fails to remove the trapped particles of sugar and starch. These factors combine to weaken and erode outer enamel and expose sensitive inner structure to harmful bacteria, leading to tooth decay. Which is why strong enamel is so important!
Fluoride Treatments
To help keep the outer layer of tooth enamel strong and resilient, our team will apply fluoride during each checkup and cleaning visit. We apply the naturally occurring mineral to the teeth in a topical gel form. This cures quickly, kids just need to avoid eating and drinking for about 30 minutes. The layer restores lost calcium and phosphates to the tooth surface, keeping it strong. Your little one is then less likely to develop a cavity. We apply these during your child's exam visit, which should happen about once every six months for kids ages two and older. If your child hasn't received his or her first dental exam of 2023, then be sure to schedule a visit with our team soon.
Toothpaste
This ingredient is also found in toothpaste with the American Dental Association (ADA)'s Seal of Acceptance. When you brush, this helps restore your protective outer layer. Kids three and younger should use a ricer sized blot of toothpaste, while kids over the age of three and adults need to use a pea sized amount. We could also discuss fighting tooth decay with dental sealants. These are a special plastic coating added to the molars, the rear teeth kids often have trouble reaching. The sealants prevent food particles from becoming stuck between them, lowering the risk of cavities for up to ten years in some cases.
If you have any questions about how we protect little smiles from the onset of tooth decay, or about our preventive treatments and visits, then contact our team today to learn more.
Your Shirley, NY, Orthodontist and Pediatric Dentist Keeps Teeth Strong
Our team wants to work with kids to help them enjoy optimal oral health! To learn more about helping protecting little smiles with preventive dental care, then contact Shirley Orthodontics and Pediatric Dentistry in Shirley, NY, by calling (631) 399-1600.