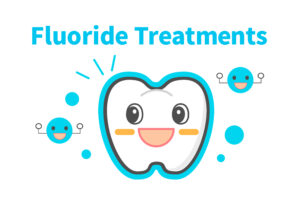 We recently talked about how dental sealants can help strengthen the rear teeth and lower the risk of cavities. But in addition to dental sealants, we can offer another avenue of protection from cavities with fluoride treatments! In today's blog, your Shirley, NY, pediatric dentist and orthodontist talks about fluoride and cavity prevention.
Applying Treatments
The application of this mineral during your child's checkup visit only takes a few minutes. Using a swab, brush, or a plastic tray, we will apply the fluoride in a gel form directly to the teeth. Your kids then need to avoid eating or drinking for 30 minutes. That's it! The fluoride then helps strengthen the outer enamel, remineralizing it to prevent the erosion that leads to tooth decay. Prior to placement, we will also clean the teeth to remove all harmful layers of plaque and tartar, which further helps prevent cavities and even gingivitis in little smiles. Kids will receive this with every checkup and cleaning visit, and they should be attending these every six months starting at around age two.
Toothpaste and Tap Water
You can also find this helpful mineral in other places too! For example, kids should be using a toothpaste that contains it, as this helps protect smiles from. Look for fluoride on packaging, or the American Dental Association's Seal of Acceptance. Kids ages three and younger should use a rice sized amount, and kids over the age of three should use a pea sized amount. Your community's tap water may also contain this ingredient, so be sure your kids drink plenty of water, as this not only provides safe levels of fluoride, but can help rinse away trapped sugar and starch particles to limit the risk of plaque buildup and tooth decay.
Protecting Little Smiles
If your child hasn't seen us lately, now is a great time to schedule their last visit of 2022, so we can make sure they greet 2023 with bright and healthy smiles. You can also use your 2022 dental insurance benefits before they expire at the end of December. If you have any questions about protecting little smiles from tooth decay, then contact our team today to learn more. We're ready to offer pediatric dental care and orthodontics for kids of all ages, and also orthodontic care for adults in need of treatment too.
Time to See Your Shirley, NY, Orthodontist and Pediatric Dentist
We would love a chance to see your family for an exam and cleaning appointment, and to even get started on straightening uneven smiles too. To learn more about safeguarding your smile against the onset of tooth decay, then contact Shirley Orthodontics and Pediatric Dentistry in Shirley, NY, by calling (631) 399-1600.