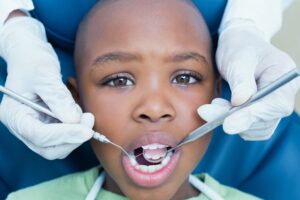 Kids need to see the dentist to help protect their smiles from issues like tooth decay. But what should you and your children expect from a visit to our office? In today's blog, your Shirley, NY, pediatric dentist and orthodontist explains why checkups are so essential for kids, and what to expect during the checkup visit.
Helping Them Feel Comfortable
Our team has experience in working with kids of all ages, from babies and toddlers to older kids and teens. We want to help them feel relaxed and comfortable, so we take time to talk to them about their oral health habits and how they're caring for their smiles. A checkup is a chance to talk to kids about their oral health and helps them understand how to care for their teeth and gums from home, and to help them become accustomed to these visits so they don't have dental anxiety as adults.
Exams with Digital X-Rays
As part of the exam, our team will take detailed digital x-rays of the teeth from multiple angles, x-rays that are available instantly chairside and don't need to be developed in harsh chemicals. Your kids don't need to use uncomfortable bitewings either! These images show us the roots, teeth, gums, oral structures, and jaw, so we can diagnose any areas of concern in the earliest stages, treating issues like tooth decay before toothaches occur. We also assess their risk of dental misalignment, and whether they need to start the first phase of orthodontic treatment. With a visit twice a year, we can identify these concerns early!
Cleanings
In the same visit, our team will take time to clean the teeth thoroughly. A dental cleaning is a procedure that involves removing all plaque and tartar from the teeth with an ultrasonic scaling device and a manual tool. The procedure removes the plaque and tartar that could otherwise cause issues like bad breath, teeth stains, cavities, and even gingivitis. Then with proper brushing and flossing habits at home, kids can limit how much plaque can accumulate before we see them for their next cleaning appointment.
Preventive Treatments
We also have preventive visits designed to help lower their risk of tooth decay. During checkups, we can apply a topical fluoride gel to strengthen the teeth and prevent cavities. We also have dental sealants that coat the hard-to-reach rear teeth, limiting the risk of cavities in the more vulnerable portions of their smiles.
Your Shirley, NY, Orthodontist and Pediatric Dentist Offers Exams and Cleanings
We would like to help your children maintain their healthiest smiles with pediatric dentistry. To learn more about pediatric dental care, then contact Shirley Orthodontics and Pediatric Dentistry in Shirley, NY, by calling (631) 399-1600.