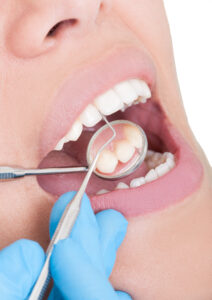 A new year is here, and to help your kids start it right, now is a great time to schedule a preventive visit. Our team can offer checkups and cleanings for children, and even preventive treatments to lower the risk of cavities. In today's blog, your Shirley, NY, pediatric dentist and orthodontist talks about our checkups!
The Dental Exam
We suggest an exam for children every six months starting at around age two. However, the first visit should happen once the first baby tooth erupts, usually about age one. During routine examinations, we will talk to your child about his or her smile, their oral health routines, and risk factors for cavities. Using advanced digital x-ray, we will conduct a diagnosis with precision and accuracy. Our team can then identify areas of concern and create a treatment plan to address them. The checkup involves looking for the earliest stages of cavities, infections, gingivitis, and any issues with the eruption and loss of the baby teeth, or the arrival of the permanent ones. Routine visits help kids learn good oral health habits, and also reduces the risk of dental anxiety.
Cleaning Little Smiles
In the same sitting, our team will also clean the teeth with an ultrasonic scaling device and a manual tool, using these to break up and remove all plaque and tartar. This buildup occurs with time, and could be exacerbated with a diet high in sugar and starch, and poor brushing and flossing habits. Without removal the buildup is linked to bad breath, stained teeth, cavities, and gingivitis. The process takes a few minutes, and we then polish the teeth for a brighter appearance and a smoother surface.
Preventive Treatments
We could also discuss unique preventive treatments to lower the overall risk of tooth decay. For example, during each visit we could apply a topical fluoride gel to the teeth. The gel then strengthens the outer enamel to make cavities less likely. Our team could also apply a special acrylic coating to the rear teeth, known as dental sealants. This layer coats the molars, which are often hard for kids to reach when they brush and floss. The sealants keep food from becoming stuck between teeth, and can stay in place for years to come, often as many as ten. They then wear away gradually with time, clinging the longest to the more vulnerable portions of outer structure.
If you have any questions, then contact our team today.
Your Shirley, NY, Orthodontist and Pediatric Dentist Protects Little Smiles
Our team wants to offer preventive care to safeguard little smiles! To learn more about helping your child enjoy good oral health, then contact Shirley Orthodontics and Pediatric Dentistry in Shirley, NY, by calling (631) 399-1600.