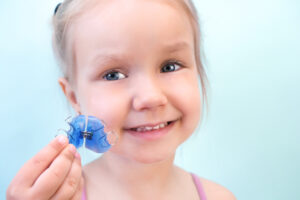 Our team offers orthodontic care for kids, and can begin treatment as young as age seven. To do so, we will offer a phased approach, using custom treatments to guide smile growth. In today's blog, your Shirley, NY, pediatric dentist and orthodontist talks about the benefits of phase I orthodontics, and how this helps guide children to their best possible smile!
When Kids Should See Us
We can often start treatment for children as young as age seven. At this stage, they have a mix of permanent and primary teeth, so our team can better assess their risk for misalignment, and create a treatment plan to intervene and help limit the risk of major alignment concerns in their teen and adult years. If your child displays crooked, cowed, or overlapping teeth, or if a primary tooth isn't falling out as it should and permanent ones have begun to arrive, let us know. We will take detailed digital images of the smile to assess their risk and plan their first phase of treatment!
Our First Phase of Treatment
During the first phase, we're trying to shift the teeth and guide the growth of the smile so permanent teeth can erupt without complication and we can limit the severity of misalignment before we comet treatment in the teen years. If a child loses a primary tooth too early, we can use a space maintainer to keep teeth from shifting and leave the area open, so the permanent tooth comes in without trouble. We could also employ an oral appliance known as a retainer, custom-fitted for the smile to help guide the growth. The retainers and space maintainers can be fixed in place or removable, although we tend to prefer fixed as this reduces the risk of them being lost.
What Happens During the Second Phase?
Once your child enters his or her teen years and the enamel has properly calcified on the teeth, we can move forward with the second and final phase of treatment. This involves using either braces or Invisalign® aligners to shift the teeth into their final positions, so your kids enter adulthood with an even and beautiful smile! If you have any questions about how we help smiles in childhood or in the teen years, then contact our team today. We look forward to helping your kids enjoy optimal oral health and a beautiful new smile.
Your Shirley, NY, Orthodontist and Pediatric Dentist Offers Children's Orthodontics
We're ready to help children enjoy good oral health and an even smile with our phased approach to orthodontic care. To learn more about our first phase of treatment for kids and start their journey to their best smile, then contact Shirley Orthodontics and Pediatric Dentistry in Shirley, NY, by calling (631) 399-1600.