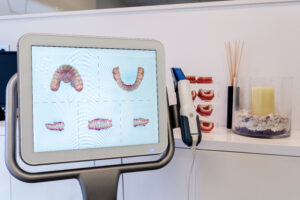 Our team uses advanced technology as part of our treatment process, from your diagnosis to designing custom appliances and orthodontics. We can then create 3D prints of these to help kids, teens, and even adults enjoy optimal oral health and even smiles! Your Shirley, NY, pediatric dentist and orthodontist talks about the process in today's blog!
Diagnosis with Digital X-Rays
First, we need to conduct a diagnosis of your smile to assess the cause and extent of your misalignment, and to create a treatment plan tailored to your smile. To do so, we will take detailed images of the smile with digital x-rays and intraoral cameras, which are safe for kids and adults alike, using 90% less radiation. No need for uncomfortable bitewings either! The images are available chairside right away, so we can walk you through the diagnostic process. From there, we will decide what form of orthodontics you will need to correct your uneven smile.
The iTero® System
To ensure your orthodontics are custom-fitted and appropriate for your smile, we will take detailed digital images of your smile with the iTero® system. The images we gather will be combined to create a 3D impression of your smile, which we can use to design and fabricate the aligners, retainers, space maintainers, or other appliances you may need to correct your uneven smiles. The same images can also aid in the creation of lifelike restorations, such as dental crowns. No need for physical impressions, as we have a more accurate and precise digital alternative!
3D Printing
The impressions will then be uploaded into an onsite milling machine, which 3D prints them from strong and durable materials. We can create ceramic brackets to make orthodontics less visible, and also design and craft a series of Invisalign® aligners. Our team can also create custom retainers and space maintainers, and also oral appliances to help improve balance in the bite. In one visit, you can leave with the appliances and orthodontics necessary to help you smile.
If you have any questions about how we use digital imaging and 3D printing to help with treatment, then contact our team today. We can help kids and adults with orthodontics needs, and also offer pediatric dentistry to address concerns like tooth decay and gingivitis. Your entire family can soon smile with confidence again!
Your Shirley, NY, Orthodontist and Pediatric Dentist Is Ready to Help!
Our team wants to help you enjoy treatment with custom orthodontic appliances and advanced technologies. To learn more about the technology we use to treat your smile, then contact Shirley Orthodontics and Pediatric Dentistry in Shirley, NY, by calling (631) 399-1600. We would love to help your family enjoy optimal oral health in 2023 and beyond.