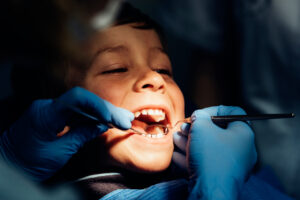 Has it been a while since your child visited a dentist, or have you been able to bring them to one? To protect little smiles, kids need to have a checkup and cleaning every six months. In today's blog, your Shirley, NY, pediatric dentist and orthodontist talks about what to expect from your child's first checkup visit.
Why Kids Need an Exam
Serious oral health issues don't form overnight, and often take months to reach a state that can cause painful symptoms or threaten smile stability. Which means a visit every six months enables our team to watch for these issues and catch them in the earliest stages, so we can treat them and protect oral health. We often look for signs of tooth decay, dental infection, gingivitis, and complications with the arrival and loss of the baby teeth, or the eruption of the permanent teeth, that could lead to misalignment.
The First Visit
During their first appointment, we will make them feel welcome and ask about their oral health habits. We then take detailed digital x-rays of their smile to assess the current state of their oral health and identify any concerns on the horizon. We then create a personalized treatment plan to address any concerns we uncover, so they continue to enjoy optimal oral health.
Dental Cleanings
In the same visit, our dental hygienists will clean the teeth by removing all plaque and tartar buildup from the surfaces. Doing so helps fight bad breath and teeth stains, and significantly lowers the risk of cavities and gingivitis. We then polish the teeth to offer a brighter appearance.
Preventive Treatments
We will also apply a topical fluoride gel to the teeth in the same visit, which helps strengthen the outer layer of enamel to protect your teeth from enamel erosion and tooth decay. The process takes just a few minutes, and your kids need to avoid food and drink for 30 minutes. We could also protect the rear teeth, as the molars are hard for kids to reach when they brush and floss, so this is often where tooth decay occurs. The sealants are thin plastic layers that cover these teeth and prevent food and drink particles from becoming stuck there. They can last as long as ten years in some cases!
If you have any questions about your child's first visit, or if you would like to schedule a future checkup and cleaning appointment, then contact our team.
Your Shirley, NY, Orthodontist and Pediatric Dentist Helps Little Smiles
Our team is ready to help your children maintain their best possible smiles. To learn more about how we can help little smiles enjoy better oral health, then contact Shirley Orthodontics and Pediatric Dentistry in Shirley, NY, by calling (631) 399-1600.