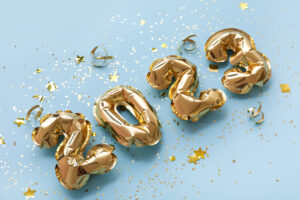 Are you and your family making any big resolutions for 2023? If so, don't forget about your smiles! With a few simple changes, you can help protect the oral health of yourself and your children. In today's blog, your Shirley, NY, pediatric dentist and orthodontist talks about resolutions for healthy smiles.
Better Brushing
Take time to make sure your kids are brushing their teeth properly. They should do this first thing in the morning when they wake up, and then once again before going to bed. Each session should take about two minutes minimum. You can help by using a fun song, video, or even a sand timer to help them. There are even children's toothbrushes that blink or glow for the amount of time needed to properly clean the teeth. Be sure they're using an age appropriate one too! As for toothpaste, make sure your kids use one with fluoride, as this helps strengthen the outer enamel. Kids three and younger should use a rice-sized amount, and kids over the age of three need a pea-sized amount.
Helping Kids Floss
Children also need to floss as soon as there are teeth sitting next to one another. For babies and toddlers, you can do this for them with a floss pick. Younger kids can also use a pick as it works great for limited dexterity. As they grow older, they can upgrade to the same tape that you use. Be sure they're running the floss up and down each side of every tooth, and then dipping below the gum line to remove trapped particles. This is vital for avoiding cavities and gingivitis, and also helps improve breath freshness and limits teeth stains.
Avoiding Too Much Sugar
Children love sugary snacks and drinks, like candy and soda, but too much could leave behind particles for harmful oral bacteria to consume. This leads to plaque buildup and a higher risk of cavities. Offer them plenty of water and also health options like fresh fruits and veggies, whole grain crackers, and cheeses.
Checkups and Cleanings
A checkup and cleaning every six months are also essential for all children two and older. We can offer a checkup to watch for signs of trouble and address them before they threaten the stability of the teeth. The cleaning also helps by removing all plaque and tartar to fight cavities and the risk of gingivitis. In the same visit, we can limit the risk of cavities with dental sealants! If you have any questions, then contact our team today.
See Your Shirley, NY, Orthodontist and Pediatric Dentist Soon
Our team wants to help children of all ages keep smiles healthy and strong. To learn more about helping kids enjoy optimal oral health, then contact Shirley Orthodontics and Pediatric Dentistry in Shirley, NY, by calling (631) 399-1600.