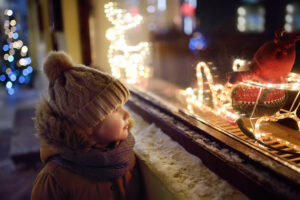 The holiday season is here, and soon your kids will be on winter break and inundated with lots of sugary treats. Which is why we're offering a few simple tips to protect smiles of all ages. In today's blog, your Shirley, NY, pediatric dentist and orthodontist talks about protecting oral health!
Smile-Healthy Stocking Stuffers
When choosing gifts and stocking stuffers, take your children's smiles into account. Instead of loading them up with sugary sweets that cause cavities, why not instead offer options that keep their smiles bright and healthy? You can choose electric toothbrushes with their favorite cartoon characters on them, or fun flossers and mouthwashes. You can also offer fresh fruit, which is a sweet and healthy treat that doesn't leave their smiles as vulnerable to tooth decay.
Avoiding Cavities
Be sure your kids have limited access to candy and sweets. We love our Christmas tree cakes, cookies, and other holiday sweets, but too much could mean tooth decay and aching teeth. When they do enjoy their treats, encourage them to drink water to help rinse the sugary particles away. Even if you're heading out of town, make sure your kids continue to brush in the morning and at night for two minutes. Kids three and below need a rice sized amount of fluoride toothpaste, while kids over the age of three need a pea sized amount. Be sure they also floss every evening to remove what a toothbrush cannot reach. We can work together to help ensure your kids start a new year with a bright and healthy smile!
See Us Soon!
You can still schedule a checkup and cleaning visit before the year comes to an end. The checkup means we can identify areas that need attention, treating them before the teeth ache or develop infections. We also clean the teeth to remove all plaque and tartar buildup from them. In the same visit, we could also apply a fluoride gel to help strengthen the outer enamel and prevent cavities from forming. With dental sealants, we can apply a plastic coating to the rear teeth, which are often hard for kids to reach when they brush and floss, providing cavity protection for up to ten years in some cases.
If you have any questions about children's dentistry, then contact our team today to learn more. You can use your 2022 dental benefits before they expire at the end of the year.
Time to See Your Shirley, NY, Orthodontist and Pediatric Dentist
Our team wants to help you avoid the onset of tooth decay. To learn more about staying free of cavities in the holiday season and beyond, then contact Shirley Orthodontics and Pediatric Dentistry in Shirley, NY, by calling (631) 399-1600.