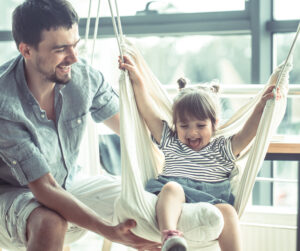 It is important as parents that we give our children the proper values in maintaining their health. These habits can help them to succeed as they grow, so the effort in stressing their healthcare is vital to their future. Dentistry is particularly connected in this manner, as poor maintenance as a child can be hard to remedy as an adult.
Children gather much of their emotional views on dental visits from the way their parents frame them. In much the same way, at-home oral hygiene care such as brushing and flossing are skills that kids learn from exposure. Be the most positive dental health role model that you can be by setting a great example.
At our Shirley, NY pediatric dentist, a positive and comforting first experience can help children to feel excited about visiting their wellness professionals. A solid first step can be the start of an amazing oral health path that gives your child the tools they need to have the best smile possible throughout their life!
Be An Oral Health Leader
Sometimes, parents will allow their squeamishness around dental visits to show to their children. This can give them the idea that their routine oral checkups are something that they should fear. One of the simplest ways to help your young one develop positive confidence in their smile is by setting an example as a role model. Emphasize the benefits of regular examinations and cleanings so that they are comfortable walking in to their appointment!
Take Time To Prepare Them
The experience of visiting the dentist may seem obvious to you as an adult, but it is important for you to remember that children do not have the same frame of reference. Without the benefit of experience, they cannot comprehend how dental visits can save them from future trouble. There might be some anxiety due to uncertainty when they come in for their first visit and this is understandable.
For this reason, it can be helpful to thoroughly explain the duties of a dentist, so that they understand the goal of their visit. Beware of making jokes at this time, as they may take them to heart. These appointments are designed specifically to help guide their smile to a beautiful and healthy adult mouth. They are not punishment but rather a stepping stone in their amazing development.
Caring Pediatric Dentistry In Shirley, NY
Give your child the tools they need to be successful in their oral health maintenance. Set a solid example through your confidence and make sure your little ones know the goals of their dental appointments. Call Shirley Orthodontics and Pediatric Dentistry in Shirley, NY at (631) 399-1600 to learn more about how you can work to give your child a comfortable first visit!