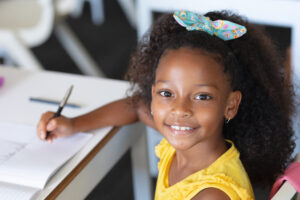 When a tooth is lost prematurely, to prevent major misalignment we may suggest a phase one orthodontics known as space maintainers. These can be removable or fixed, and help children as young as age seven avoid major malocclusion. In today's blog, your Shirley, NY, pediatric dentist and orthodontist talks about our space maintainers.
How Little Smiles Shift
When do we need to recommend this first phase orthodontics for little smiles? Well, when a child loses a tooth prematurely to tooth decay or injury, this leaves a gap in the smile. Which means the surrounding teeth could shift. Since they're not in proper position to guide the permanent tooth into place, this could lead to impaction or possibly dental misalignment. This could increase the risk of serious malocclusion as they grow, and ensure the need for major orthodontic treatment in their teen or adult years. However, we could help limit the severity of misalignment or avoid it with our custom space maintainers.
Space Maintainers
These are essentially devices that help keep the gap open and prevent the teeth from shifting position or the permanent teeth from being impacted or erupting unevenly. There are unilateral options attached to one side of the mouth, or bilateral ones for both sides of the mouth. Some are removable, but when possible, we prefer to provide fixed ones that kids cannot take out and lose on accident. After all, this could interrupt treatment and cause a loss in progress! Kids will need to brush and floss around them, and we will recommend a visit every six months for a cleaning, and so we can monitor their progress.
Treatment in Phase Two
If there is still minor misalignment once the permanent teeth have all erupted and properly calcified, then we will move forward with the next phase of treatment. For some kids, this could involve braces. But with ceramic brackets, we could make these much less visible. Our team could also discuss Invisalign® aligners for more minor cases, providing a nearly invisible solution to poor alignment. This will ensure they start adulthood with stunning and even smiles, and a better understanding of the importance of good oral health.
If you have any questions about treating misalignment in childhood, then contact our team to schedule a consultation with our team. You can start care now before the holiday season makes things complicated, and before your 2022 dental insurance benefits expire.
Make a Consultation with Your Shirley, NY, Orthodontist and Pediatric Dentist
We would like to help kids enjoy good oral health by addressing dental misalignment. To learn more about the first phase of orthodontic treatment for children, then contact Shirley Orthodontics and Pediatric Dentistry in Shirley, NY, by calling (631) 399-1600.