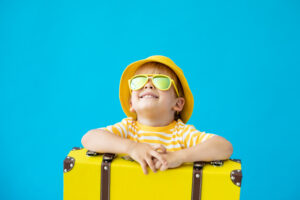 Kids need to have a dental crown when an oral health issue like tooth decay or infection is too severe to be treated with a dental filling. We take time to ensure they blend with the smile and restore health and function. In today's blog, your Shirley, NY, pediatric dentist and orthodontist talks about our crowns for little smiles!
When Kids Need a Crown
Children need a dental crown when they develop serious oral health issues, as the full restoration can cover the entire visible portion of a tooth. We could use them to correct issues with the shape of the tooth, or to improve overall balance in the bite as well. Placement could improve chewing function too, and address chipped, cracked, or worn-down teeth too. We've also used them to treat tooth decay cases too severe for a dental filling, or to complete a pulpotomy for an infected tooth. When your child has a damaged tooth, or posts discomfort, please bring him or her in for an exam.
Crafting and Securing Your Dental Restoration
Our team will custom-make each crown to ensure optimal results for your child's smile. To begin, our team will remove structure from outside of the tooth after we thoroughly numb it. Next, we will take detailed images with digital x-rays and intraoral cameras. We then use these images to design and craft the finished product, ensuring your new restoration will fit comfortably and look good as well. We could create them from materials like ceramic for the front facing teeth, as these offer a more lifelike appearance. For the side and rear teeth, which ensure greater bite forces, our team will craft them from stainless steel. We then check the fit, make any necessary adjustments, and finally secure the finished product with a powerful bonding agent.
Keeping Little Smiles Strong
You can help your children enjoy good oral health and avoid issues with the appearance or health of their smiles. For example, bring them in for checkups and cleanings every six months, so we can keep an eye on the smile and remove harmful plaque buildup. We can also apply fluoride treatments or dental sealants to protect smiles from cavities. At home, be sure they brush and floss daily to fight tooth decay and other serious oral health issues. If you have any questions about treating little smiles with a restoration, or about how we protect smiles from the onset of cavities, then contact our team today.
Make an Appointment with Your Shirley, NY, Orthodontist and Pediatric Dentist
Our team is here to help your children maintain good oral health. To learn more about restoring health, function, and beauty to a child's tooth, then contact Shirley Orthodontics and Pediatric Dentistry in Shirley, NY, by calling (631) 399-1600.