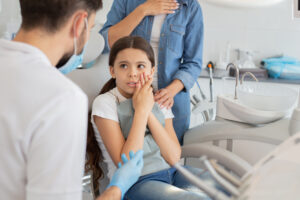 When a tooth becomes infected, this could be a source of major discomfort for your child, and could even complicate how they eat. To bring relief and prevent the premature loss of a tooth, we can offer a restorative treatment. In today's blog, your Shirley, NY, pediatric dentist and orthodontist talks about our pulpotomy treatment!
The Risks and Causes of an Infected Tooth
An infected tooth is much more serious than a cavity, and means that the pulp, a tooth's inner tissues, have become exposed to harmful oral bacteria. For children, this often occurs when a cavity isn't treated and allowed to grow in severity. But a damaged tooth could be a factor as well. Warning signs include painful tooth sensitivity and toothaches, as well as pain when they eat or drink, swelling near the tooth, headaches and jaw pain, or a discharge from it. Without treatment, the tooth could require extraction to prevent the spread of infection to other parts of the smile, or it could fall out. Premature tooth loss is a major risk factor in the onset of dental misalignment!
The Pulpotomy
We will first begin with a thorough exam, in which we use digital imaging technology to examine the tooth and identify the position and severity of the infection. This enables us to plan the process in detail. Next, our team will offer a local anesthetic to keep the area comfortable, and for anxious children we could provide sedation to help them enter a calm and relaxed state throughout the pulpotomy procedure.
We then open the tooth to remove the infected portions of the pulp. Next, we add a medicated filling to protect it. We could use composite resin to protect the tooth for minor cases, or create and secure a dental crown to protect it. Typically, we use composite resin for the front facing teeth, and crowns for the molars.
Prevention
To help safeguard teeth against infections, our team recommends a checkup and cleaning every six months, so we can watch for the earliest signs of decay and offer treatment. Cleanings then remove all plaque and tartar to keep the tooth healthy and bright. We could also apply fluoride treatments or dental sealants to further protect the teeth. At home, kids need to brush and floss daily and also cut back on their consumption of sugary foods and drinks.
If you have any questions about treating little smiles, then contact our team today.
See Your Shirley, NY, Orthodontist and Pediatric Dentist for a Checkup
Our team is here to help return little smiles to optimal health, function, and beauty. To learn more about safeguarding children's smiles with restorative care, then contact Shirley Orthodontics and Pediatric Dentistry in Shirley, NY, by calling (631) 399-1600.