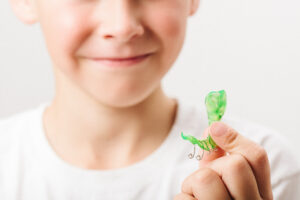 Did you know that we could start orthodontic treatment for kids as young as age seven? To do so, we offer a phased approach using treatment options like retainers and space maintainers. In today's blog, your Shirley, NY, pediatric dentist and orthodontist talks about the first phase of your child's treatment.
Planning Treatment
To get started, we want to meet your child and take a close look at their smile. Employing advanced digital imaging systems, such as x-rays and intraoral cameras, our team can assess the cause and extent of their misalignment, and the potential threat to their oral health down the road. Once we understand the factors behind their smile's alignment issues, we can create a personalized treatment plan. The first phase of treatment is designed to help limit the severity of misalignment and guide the growth of the smile.
Retainers and Space Maintainers
For some, we could recommend retainers, custom-made oral appliances that are worn during the day and night, and help guide the growth of the jaw over time, limiting the severity of misalignment. These could be removed or fixed in place. Losing the baby teeth prematurely could impact alignment, as this alters how the permanent teeth erupt. To help prevent this, we could use space maintainers. These are worn to keep the space open in your smile so the permanent teeth can arrive without complication, and this limits the onset of misalignment too. The space maintainers are custom-crafted, and could be unilateral or bilateral. They could be removable, but we often recommend fixed in place options to limit the risk of them being misplaced.
Treatment in the Teenage Years
The first phase of treatment helps limit the severity of misalignment, and treatment during the teen years will complete it. We start the next phase once all of the permanent teeth have erupted and their surfaces have properly calcified. We then recommend either braces or aligners to complete the process. With braces, we could limit visibility with ceramic brackets, which are designed to blend with your teeth. Invisalign® aligners are made from a clear plastic, making them nearly invisible when in place. If you have any questions about these treatment options, or about our phased approach for children as young as age seven, then contact our team today to learn more. We want to help little smiles stray healthy and strong!
Schedule Your Child's Visit with Your Shirley, NY, Orthodontist and Pediatric Dentist!
Our team is here to help your family enjoy optimal oral health and an even smile with a personalized approach to orthodontics. To learn more about our approach to children's dentistry and orthodontic care, then contact Shirley Orthodontics and Pediatric Dentistry in Shirley, NY, by calling (631) 399-1600.