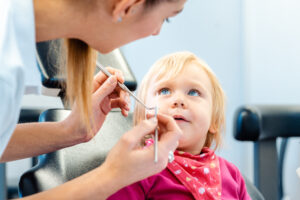 Whether we're talking about a child's first ever visit to the dentist, or an older child visiting our office for the first time, we want parents to know what to expect. In today's blog, your Shirley, NY, pediatric dentist and orthodontist talks about what to expect from your little one's first visit to our practice!
Getting Ready
You can talk to your child about what to expect. Let him or her know that a dentist is a person who wants to ensure smiles are healthy, strong, and beautiful. They could bring a special toy or stuffed animal to help them feel comfortable. When you arrive, we will welcome you to the waiting room and may have forms for you to fill out. Your children can watch TV or read a book, and when the dentist is ready, we will invite you back. Our team knows how to talk to kids to help them feel welcomed and relaxed, so they enjoy their time in the office and look forward to the next one! After all, this is an opportunity to instill good oral health habits and prevent dental anxiety.
The Exam
The dental exam involves a thorough look at your child's teeth, gums, and oral structures. We can use digital x-rays and intraoral cameras to ensure a diagnosis with precision and accuracy. We will talk to your child throughout the exam and answer any questions, and discuss what tools we will be using. The checkup allows us to identify the earliest stages of decay or infection, and assess any complications with the eruption/loss of primary teeth, and the arrival of the permanent ones. If there appears to be a risk of misalignment, we can discuss phased orthodontics to begin guiding the growth and development of the smile to prevent major alignment issues in the future.
Cleanings and Preventive Treatments
In the same visit, our team will also clean the teeth to remove harmful layers of plaque and tartar, so kids can enjoy bright teeth and a lowered risk of tooth decay and gingivitis. We could also recommend preventive treatment to lower the risk of cavities, such as fluoride gel to strengthen the outer enamel, or dental sealants to prevent cavities from occurring in the rear teeth.
If you have any questions about our approach to children's dentistry, then contact our team today to learn more or schedule a visit.
Make an Appointment with Your Shirley, NY, Orthodontist and Pediatric Dentist Today!
We want to help children of all ages enjoy strong, healthy, and beautiful smiles for years to come. To learn more about how we can examine and safeguard your child's smile, then contact Shirley Orthodontics and Pediatric Dentistry in Shirley, NY, by calling (631) 399-1600.