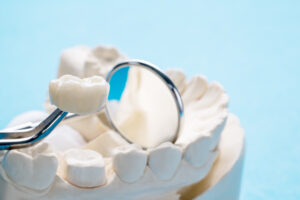 When a child comes to us with a damaged tooth, or a more severe case of tooth decay, then we may recommend protecting smiles with a dental crown. A restoration can help prevent major complications, including premature tooth loss and misalignment. In today's blog, your Shirley, NY, pediatric dentist and orthodontist talks about our lifelike crowns.
When Children Need Restorations
A child may need a restoration when tooth decay develops that is too severe to be treated with a filling, or if a tooth is cracked or chipped. Even minor damage could increase the risk of cavities and infection, and will need attention. We could also employ them to help improve chewing function and bite balance, which helps kids enjoy better oral health and quality of life too. When possible, we want to custom-make them to ensure optimal restoration and a more lifelike appearance.
Creating Lifelike Crowns
Each one will be custom-made, which means we begin by numbing the tooth and gently removing structure. If your child has dental anxiety, we could use sedation to help them remain calm and relaxed through the treatment profess. After we remove structure, we gather detailed images that allow us to create the restoration with precision and accuracy. The crown, usually made from stainless steel for the rear teeth or a more lifelike ceramic or zirconia of the front facing ones, is the attached with a powerful bonding agent, one that allows it to stay in place for years to come.
Restoring and Protecting Smiles
After placement, you could offer a few simple changes to your family's daily routine to help the crown stay firm and safeguard natural teeth too. Make sure your kids don't go overboard on sugary foods n drinks, and help them brush twice a day for two minutes with a fluoride toothpaste. Flossing is also essential before bed each night. Every six months, we could love to see them for a checkup and cleaning so we can monitor the smile for signs of trouble in the early stages, and also remove all harmful plaque and tartar buildup. We could also discuss preventive treatments like fluoride gel and dental implants to help prevent cavities and infection in little smiles.
If you have any questions about our dental crowns, or about safeguarding smiles, then contact our team today to learn more. We want to help little smiles of all ages stay strong and bright!
Make an Appointment with Your Shirley, NY, Orthodontist and Pediatric Dentist
Our team is ready to help safeguard smiles with custom and quality dental restorations. To learn more about how we repair and improve the function and beauty of little smiles, then contact Shirley Orthodontics and Pediatric Dentistry in Shirley, NY, by calling (631) 399-1600.