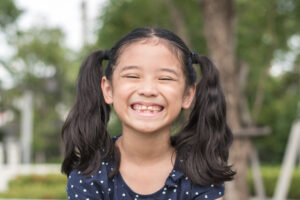 When your child damages a tooth, or develops a more severe case of tooth decay, we may need more than a filling. Instead, we may need to craft and secure a full crown. In today's blog, your Shirley, NY, pediatric dentist and orthodontist will talk about how we create custom-made dental crowns for children of all ages.
The Need for a Dental Restoration
Kids need a crown when they develop oral health concerns too severe to be dealt with using a simple dental filling. For example, a serious case of tooth decay or possibly an infected tooth. We could also repair cracked, chipped, or worn-down teeth, or reshape malformed ones too. The restoration will cover the entire visible portion of the tooth, so we can address an array of restorative issues, and using lifelike materials mean we can improve smile esthetics at the same time.
Crafting and Placing Crowns
Each one is custom-made and fitted for your child's smile, ensuring proper bite balance and a comfortable fit. To begin, we will examine the smile and then administer a numbing agent to the tooth receiving a restoration. Once the area is numbed, we can remove structure to make room for the crown. Detailed images are then taken of the prepared tooth to create an impression, one we will use in a dental lab setting to design and craft the restoration. When the crown is ready, we will check the fit and make any last-minute adjustments before we place it with a powerful bonding agent. Once the crown is secured, it could last for years to come with proper care and attention. While options like stainless steel may work for the rear teeth, which endure greater bite forces, we could use more natural looking ceramic or zirconia for the visible front facing ones.
Being Proactive with Your Child's Oral Health
Often, you can take steps to help protect your children from the onset of tooth decay and infection, limiting the need for restorations at all. Be sure your children brush twice daily with a fluoride toothpaste, and that they floss every evening. Try to limit their access to sugary foods and drinks and also be sure to bring them in for checkups and cleanings every six months. If you have any questions about how we restore a tooth, or if you would like to schedule a visit for your child, then contact our team today to learn more.
Speak With Your Shirley, NY, Orthodontist and Pediatric Dentist
Our team wants to help kids of all ages enjoy better oral health with restorative dentistry. To learn more about our custom and natural looking dental restorations, then contact Shirley Orthodontics and Pediatric Dentistry in Shirley, NY, by calling (631) 399-1600.