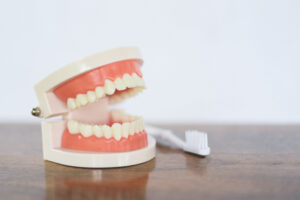 A dental crown is a very strong and durable restoration that we use to help smiles of all ages. Each one is custom-made, and could address minor or severe oral health issues. In today's blog, your Shirley, NY, pediatric dentist and orthodontist talks about how we help smiles with a lifelike and strong dental crown.
Dental Crowns for Kids
These restorations cover the entire visible portion of a tooth, which means we can address both cosmetic and restorative issues. When placed, we could address cases of tooth decay too severe for a filling, or as part of a pulpotomy procedure to treat infected teeth. These could be used to treat injured teeth or to improve overall bite function and balance.
Help For Adults
For adults, we could use them to again treat advanced tooth decay and infection, or to repair cracked or chipped teeth. They've also been used to address tooth loss by using a dental bridge in place. Like with kids, these can help address an array of issues with the teeth, both cosmetic and restorative.
Creating and Placing Them
If we examine a smile and determine that one is needed to repair a tooth and address these concerns. We then numb the tooth and if the patient has dental anxiety, we can suggest sedation. Structure is then removed from the tooth to make room for the crown. Next, we take detailed images of the tooth to allow us to design and craft a custom-made dental restoration. We could craft one from metal or zirconia for the rear teeth, which must denture greater bite forces. The zirconia option can be shaded to blend with the tooth and look natural. For the front-facing teeth, we could also use zirconia, or possibly ceramic, to ensure a more lifelike appearance. When possible, we want our restorations to blend with the smile and preserve the beauty of your child's smile.
If you have any questions about how we transform smiles with the creation and placement of a dental crown, then contact our team today to learn more. We want to help your family enjoy bright smiles and better oral health. Summer is a great time to schedule a visit with our team, as your kids don't have to miss school and can return in the fall with bright, healthy smiles.
Make a Visit With Your Shirley, NY, Orthodontist and Pediatric Dentist
Our team is eager to help restore the health, function, and beauty of your smile. To learn more about placing a custom and durable dental restoration, then contact Shirley Orthodontics and Pediatric Dentistry in Shirley, NY, by calling (631) 399-1600. We would love to see you and your kids for routine checkups and cleanings, so we can ensure everyone continues to enjoy optimal oral health!