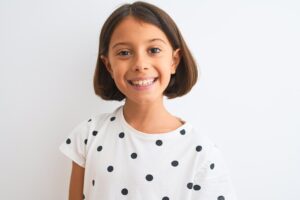 Sometimes, your child develops an oral health problem that will need more than just a filling or dental bonding. Instead, repair to save the smile and prevent discomfort means a dental crown. In today's blog, your Shirley, TX, pediatric dentist and orthodontist will discuss how we craft crowns that blend with a child's smile.
The Need for Dental Repair
The dental crown is a restoration that addresses the entire visible portion of a tooth's structure, from the gum line upwards. For this reason, we often use them to correct more severe restorative issues, and to also tackle cosmetic ones that cannot be addressed with teeth whitening or dental bonding. For example, placement could allow our team to treat tooth decay too severe for a filling, and to act as the final step in a pulpotomy procedure to protect infected teeth. We could also employ them to reshape malformed teeth, lengthen worn down structure, and to improve overall bite function and balance.
Crafting a Custom Restoration
Each one is custom-made for your child's smile. To begin, we will offer a local anesthetic to numb the tooth. We can also use sedation to help kids with anxiety or special needs remain calm and comfortable throughout the procedure. We then gently remove structure from the tooth receiving the restoration, and take detailed digital images of it. The images will be combined to create a 3D impression, and used to design and craft the crown. Depending on the location and preference, we could create them from stainless steel or possibly a more lifelike zirconia.
Placing Your Child's Crown
When the restoration is ready for placement, our team will check the fit and make sure it fits properly and offers a balanced bite. We then connect it to the tooth with a powerful bonding agent. To keep it strong and ensure it lasts, and to also safeguard surrounding teeth too, we recommend your child brushes twice a day and flosses every evening. Kids three and younger should use a rice-sized amount of fluoride toothpaste, while kids over the age of three need a pea-sized amount. Make time to see our team for a checkup and cleaning every six months too, so we can keep an eye on the smile as it grows and develops.
If you have any questions about how we restore and repair little smiles with dental restorations, or if your child needs to see us for a crown, then contact our team today.
Give Your Shirley, NY, Orthodontist and Pediatric Dentist A Call
A full restoration can help address minor and severe issues with a tooth. To learn more about our custom and lifelike dental restorations, then contact Shirley Orthodontics and Pediatric Dentistry in Shirley, NY, by calling (631) 399-1600.