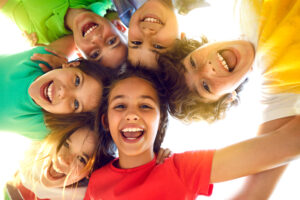 In our last blog, we talk about how dental sealants can help prevent cavities. In today's blog, your Shirley, NY, pediatric dentist and orthodontist wants to talk about another unique treatment to safeguard little smiles. In today's blog, we're looking at the benefits of fluoride treatments.
How Tooth Decay Develops
Often, daily habits can lead to a cavity in little smiles. For example, lack of proper brushing and flossing each day could leave food particles behind, where bacteria will break them down. This means bacteria will break down the trapped particles, creating higher levels of oral acidity and coating teeth in plaque, which weakens enamel and causes cavities to form as bacteria reach the sensitive inner tissues. Particles of sugar and starch tend to cling to the teeth and are more likely to be broken down by bacteria. Children will develop tooth sensitivity when they eat and drink and could complain about toothaches. When they have pain, then please let us know right away.
Fluoride Treatments
To help straighten the outer enamel and lower the risk of cavities, we will apply a topical fluoride agent to the surfaces of the teeth during each checkup. Applying this every six months could help lower the risk of cavities. This mineral has been shown to help strengthen the outer enamel, and fortify the smile; s natural defenses against cavities. Children then have a lower risk of cavities forming! The entire process only takes a few minutes to complete.
Toothpaste and Tap Water
You can also find this ingredient in toothpaste, and we recommend this for children of all ages. Look for fluoride on the packaging, or the American Dental Association's (ADA) Seal of Acceptance. Children under the age of two should use a rice-sized amount on their toothbrush. Kids over the age of three should use a pea-sized amount. In addition, your community's tap water likely contains fluoride, so drinking water not only hydrates and helps cleanse the mouth, but applies fluoride to the teeth to protect smiles of all ages. You can also help by making sure they floss every evening, cut back on sugary foods and drinks, and by seeing our team for a checkup and dental cleaning every six months.
If you have any questions about how we protect smiles from tooth decay, or about what you can do from home to help your kids enjoy healthier smiles, then contact our team today to learn more.
Schedule a Visit with Your Shirley, NY, Orthodontist and Pediatric Dentist
We would love to help keep smiles strong and free of serious tooth decay. To learn more about the treatments we can use to safeguard the smile, then contact Shirley Orthodontics and Pediatric Dentistry in Shirley, NY, by calling (631) 399-1600.