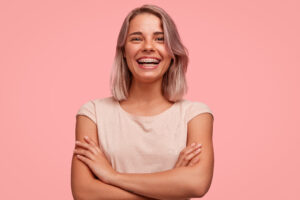 In a recent blog, we discussed how we treated orthodontic issues in kids as young as age seven with the first phase of treatment. But what happens afterward? What should patients expect from the second phase of treatment? In today's blog, your Shirley, NY, pediatric dentist and orthodontist talks about children's treatment.
Phase I
The first phase begins as young as age seven. At this point, the baby teeth are still falling out and permanent teeth are arriving. Which means now is a good time to begin reducing the severity of misalignment by guiding the growth of the smile. We do this with options like retainers, which help guide the teeth into more proper positions. We also have teeth spacers, which help ensure the permanent arrive properly when the primary teeth are lost too soon.
Phase II
What about the second phase? This begins once all of the permanent teeth have arrived and their surfaces have properly calcified, usually in the early teen years. We now offer the solutions that complete the treatment process and straighten the teeth. For some, this will involve wearing braces for about two years. To make them less visible, we could discuss the use of ceramic brackets, which blend with the smile. In addition, we could also discuss Invisalign® aligners to shift teeth in about a year to 18 months for some teens. These are nearly invisible, and can be removed before meals or special occasions, making this one a preferred option for many. Coming to us for smile correction helps lower the risk of major oral health issues, such as cavities, infection, and gum disease. Your kids then start the road toward an even, healthy smile!
Adult Orthodontics
We also offer care for adults too! If you're grown up but would still like a more even smile, let us know. We will use phase two orthodontics to help correct the smile and offer stunning results in about one to two years. Your smile will be thoroughly examined, so we can create a treatment plan tailored to your unique smile. You deserve a smile that makes you feel proud and confident, and that is healthy and strong too.
If you have any questions about our treatment options for children, or about the options we offer for adults, then contact our team today to learn more. We would love to help you enjoy a stunning smile, and everything starts with an initial consultation.
Make an Appointment With Your Shirley, NY, Orthodontist and Pediatric Dentist
Our team wants to help correct smiles of all ages with orthodontics. To learn more about addressing the smiles of kids and teens with our orthodontic treatment options, then contact Shirley Orthodontics and Pediatric Dentistry in Shirley, NY, by calling (631) 399-1600.