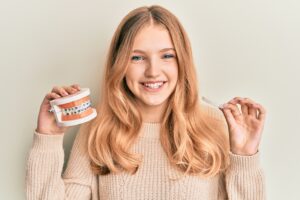 When your children complete the first phase of their orthodontic treatment, they will soon start the second. At this stage, the smile's alignment will be completely corrected. In today's blog, your Shirley, NY, pediatric dentist and orthodontist talks about the second phase of treatment and the options we offer teens patients.
The Phase One Approach
The first phase of treatment takes place as young as age seven. Using options like retainers and space maintainers, we help guide the growth of the smile to limit the severity of misalignment and improve overall oral health and bite balance. This improves chewing and speech, and limits how long orthodontics will be necessary in the second phase of treatment.
The Second Phase
The second phase of treatment starts in the teen years, once all of the permanent teeth have erupted and the enamel coating them has properly calcified. At this stage, we choose the options that will complete the correction of their smile. The option we choose will depend on the severity of the misalignment. If your teen hasn't undergone phase one treatment, we can still help correct their smiles with phase two orthodontics, the treatment time may just take a little bit longer. We also offer care for adults! You don't have to live with an uneven smile, we have options to help you obtain a stronger, healthier, and more attractive smile.
Invisalign® and Braces
For those with more minor cases of misalignment, we could recommend the Invisalign® system. This doesn't need metal brackets or wires, and instead uses a series of clear and custom plastic aligners to shift the teeth into proper positions. They can also be removed before meals or prior to brushing and flossing your teeth, making meals and smile care easier. They also offer straighter smiles in as little as one year in some cases.
If you have a more severe case of misalignment, we may recommend braces. We attach brackets to the front of each tooth and connect a portion of a thin arch wire to them with a band. We then adjust tension in the wire to shift the teeth. However, we can offer a cosmetic approach with this option too. Our team will use ceramic to create brackets that we can shade to blend with your smile seamlessly, so your braces are much less visible!
If you have any questions about correcting misalignment for teens and adults, then contact our team today.
Schedule a Visit with Your Shirley, NY, Orthodontist and Pediatric Dentist
We want to help your entire family enjoy better oral health with straighter smiles. To learn more about correcting misalignment for kids, teens, and adults, then contact Shirley Orthodontics and Pediatric Dentistry in Shirley, NY, by calling (631) 399-1600.