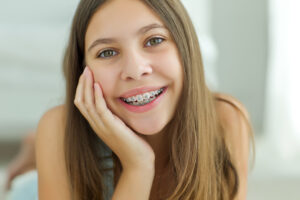 Our first phase of orthodontic treatment helps young children, and guides the growth of their smile. But what about Phase II? This starts when the children are older, and could involve the use of metal braces or even Invisalign® aligners. In today's blog, your Shirley, NY, pediatric dentist and orthodontist talks about Phase II treatment.
When Phase II Begins
Phase I involved the use of retainers or space maintainers to help prevent major misalignments and guide the growth of the smile. This is for kids as young as age seven. Once all of the piercement teeth have finally erupted and have properly calcified, then we can move forward with the next stage of treatment. Phase II is for children entering their teen years, and is the final phase of treatment. For adults seeking treatment, this is what we will use to correct misalignment.
Braces
Braces are able to handle serious causes of misalignment and provide straighter smiles in about two years. The process involves attaching a metal bracket to the front facing side of each tooth. We then connect a part of an arch wire to these brackets with a band. Our team will then adjust tension in the wire to begin shifting the teeth into optimal positions, with the bone tissue reforming around these new positions and straightening your smile. For a more cosmetic approach, instead of metal we could create brackets from ceramic. This material is translucent like enamel and can be shaded to blend with the color of surrounding tooth structure, making the braces much less visible. Many teens and adults prefer this option when possible.
Invisalign®
We also have a clear option, one that is barely visible when worn. Invisalign® will shift the teeth into proper position using a series of custom-made and comfortable plastic aligners. Each set is worn for 20 to 22 hours a day, over the course of two weeks. You then wear the next set and continue the process for about a year to 18 months for optimal results. These can also be removed before you brush and floss, and prior to each meal as well. Overall, there are fewer office visits too.
If you have any questions about how we use these options to correct smiles in the teen and adult years, or about starting the treatment process, then contact our team today. We want to offer the entire family a straighter smile, from the youngest to the oldest members!
Schedule an Appointment With Your Shirley, NY, Orthodontist and Pediatric Dentist
Our team wants to help treat misalignment and improve overall oral health! To learn more about our treatments for kids and adults alike, then contact Shirley Orthodontics and Pediatric Dentistry in Shirley, NY, by calling (631) 399-1600.