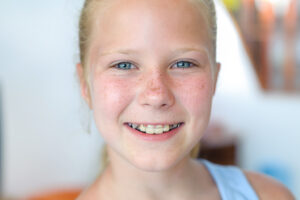 Did you know that orthodontic care isn't just limited to teens and adults? With a phased approach, we can start care for children as young as age seven! In today's blog, your Shirley, NY, pediatric dentist and orthodontist will discuss what to expect from the first phase of treatment.
When Kids Need Orthodontic Treatment
When your children begin to show signs of misalignment, consider scheduling a consultation for them. We can start care as young as age seven. Children's orthodontic care means that we use unique phased orthodontics to begin shifting the teeth and guiding the growth of the smile to limit the risk of misalignment throughout childhood. This ensures the jaw develops properly and can accommodate the teeth as they erupt. Our team will thoroughly examine the smile with advanced digital technology, assessing the cause and extent of their oral health issues. We then create a personalized treatment plan that addresses their unique smile. Remember, an even smile is one less likely to develop cavities, gingivitis, infection, or even TMD or bruxism (teeth grinding).
The First Phase of Treatment
For many children, we will custom-make a set of retainers based on detailed digital images we gather of the smile. The device will not only fit comfortably, but will help guide the growth of the jaw and the position of the teeth to reduce the severity of misalignment until they're ready for the second phase of treatment. Often, misalignment is caused by baby teeth becoming lost too soon, leading to teeth shifting and causing poor alignment. To prevent this, we can prove a fixed or removable space maintainer. This is used to keep the gap open and help guide the permanent teeth into proper position, reducing the risk of major misalignment as your child approaches his or her teen years.
Starting the Second Phase
Once all of the permanent teeth have erupted and the surface calcified, we can start the second phase of your child. This usually happens as your children enter the teen years. For some, this could involve metal braces to correct the teeth. Ceramic brackets could make braces less visible. Others could receive a series of Invisalign® aligners, which correct the teeth and remain practically invisible throughout the treatment process. We want your kids to start the journey with even and beautiful smiles, as well as better oral health. If you have any questions about our phased treatment options, or if you would like to schedule a visit for your child, then contact our team today.
Visit Your Shirley, NY, Orthodontist and Pediatric Dentist
Our team wants to help address uneven smiles in children of all ages. To learn more about how we correct misalignment in childhood, then contact Shirley Orthodontics and Pediatric Dentistry in Shirley, NY, by calling (631) 399-1600.