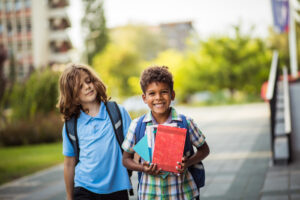 In the next few weeks, kids are going to be heading back to school. There's a lot to do to get ready, such as shopping for supplies and new clothes. But don't forget about their smiles! In today's blog, your Shirley, NY, pediatric dentist and orthodontist talk about when kids need a back-to-school visit.
Improving Smile Before School Starts
When your kids start school and the extracurricular activities that follow, missing out for appointments could risk them falling behind. Instead, you can talk to our team now to schedule a checkup and if necessary, complete treatments before the new year starts. For example, if we discover a cavity, we can place a filling in one visit, or discuss dental crown placement too. If your child needs orthodontic care to correct misalignment, we could complete the initial visits, exams, and orthodontic placement now, so they only need to visit periodically for adjustments and exams. There is plenty of time to get quite a lot done for your child's smile!
Dental Checkups and Professional Cleanings
When they arrive, we will talk to them about their oral health habits and smile goals. We will also thoroughly examine the teeth with digital x-rays and intraoral camera technology, so we can identify signs of trouble in the early stages. Our team will look for cavities, infections, teeth grinding, gingivitis, or warning signs of developing dental misalignment, which we can tackle with phased orthodontics. In the same visit, our team will also clean the teeth. The dental cleansing removes all plaque and tartar with an ultrasonic scaling device and a manual pick, followed by a thorough polishing. This leaves teeth bright and lowers the risk of cavities, bad breath, teeth stains, and gingivitis.
Fluoride, Sealants, and More
We could also provide preventive treatments that are designed to lower the risk of future cavities. We could apply a fluoride gel to help strengthen the protective layer of enamel, and also place dental sealants. The sealants are a thin plastic coating that covers the hard-to-reach rear teeth, preventing the onset of cavities in the most vulnerable part of the mouth. These can stay in place for ten years in some cases, and wear away gradually. As they erode, they cling to the most vulnerable parts of the tooth's surface the longest.
If you have any questions about our approach to pediatric dentistry, or if you would like to schedule a back-to-school visit, then contact our team today to learn more.
Make an Appointment With Your Shirley, NY, Orthodontist and Pediatric Dentist
We want to help your entire family prepare for the new school year. To learn more about safeguarding little smiles, then contact Shirley Orthodontics and Pediatric Dentistry in Shirley, NY, by calling (631) 399-1600.