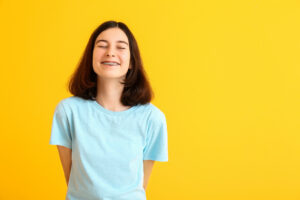 Do you have uneven teeth, or does your child? If so, this could mean more than just issues with a smile's appearance. To improve overall oral health in the long term, orthodontic treatment may be necessary. In today's blog, your Shirley, NY, pediatric dentist and orthodontist talks about when you should consider braces.
The Impact of Uneven Teeth
We could develop uneven teeth due to complications with the growth and development of our smile, or as a result of premature tooth loss and other complications. Over time, this could provide places for food and drink particles to become trapped, increasing the risk of not only cavities, but gingivitis and gum disease too. In addition, this could stress the jaw joints, so TMJ disorder and chronic teeth grinding is more likely. Your malocclusion could also impact your facial structure! Which is why we're ready to offer treatment for patients of all ages with traditional braces.
Treatment with Braces
This is often prescribed for those with more severe cases of misalignment. For young children, we start with phased orthodontics, like retainers and space maintainers, before we move on to braces. We may also prescribe this for teens and adults with misalignment too severe to be addressed with Invisalign® aligners. The process involves attaching metal brackets to the front of each tooth. We then connect a portion of a thin arch wire to them with bands. There may also be additional bands connect the upper and lower arch orthodontics. During regular visits to our office, we will adjust tension in the wire to begin shifting the teeth into proper position.
Crafting Ceramic Brackets
But we do have a more cosmetic option! Instead of using metal for the brackets, we could craft a series of ceramic ones using the iTero® system. These will be custom-made and the ceramic can be shaded to blend with the tooth. In fact, this is the same material used to create lifelike crowns and even replacement teeth! We then use clear bands to connecting the arch wire. This is a great cosmetic alternative for teens and adults with concerns about their appearance. Although, these are often more brittle than the metal alternative. We can help you decide if this is the right choice for you or your teen.
If you have any questions about how we correct misalignment and offer more cosmetic results during treatment, then contact our team today. We would love to help your family enjoy optimal oral health and more attractive smiles!
Talk to Your Shirley, NY, Orthodontist and Pediatric Dentist
Our team wants to help kids and adults alike enjoy even and healthy smiles again. To learn more about our approach to correcting malocclusion, then contact Shirley Orthodontics and Pediatric Dentistry in Shirley, NY, by calling (631) 399-1600.