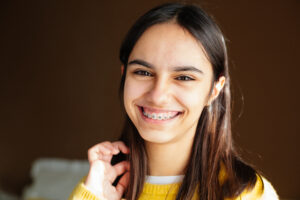 When you have a smile that is uneven, especially in a severe case, braces could help. We offer them not only for kids and teens, but for adults as well! In today's blog, your Shirley, NY, pediatric dentist and orthodontist talks about how we correct misalignment with braces, including a cosmetic ceramic option!
When Treatment is Necessary
We suggest this for people with uneven teeth, such as crooked teeth, overlapping ones, or crowding. This is especially helpful for people with severe cases, which may not be treatable with clear, plastic aligners. Treatment helps shift them into proper position, limiting the risk of common complications like tooth decay, infection, gingivitis, gum disease, and even TMJ disorder or bruxism (chronic teeth grinding). We often reserve this for teens and adults. If you or your child have an uneven smile, don't live with malocclusion and poor oral health, or a smile that you want to hide from the world. Instead, schedule an appointment to see how braces can help!
Braces
How do braces shift the teeth into proper position? To begin, we will attach a bracket to the front facing side of each tooth. Next, we attach a portion of a thin arch wire to the bracket with a band, using one wire per arch. We may also use additional bands as part of the process. During period visits, our team will adjust the tension in the arch wire, which gently shifts the teeth into proper positions. The total treatment time varies and depends on how extensive the misalignment actually is. Care usually takes about two years for most teens and adults.
Ceramic Brackets
Few people are excited by the prospect of braces, even if you do want a straighter smile. We understand, and we have an option to make them less visible. Instead of using metal for the brackets, we craft them from tooth-colored ceramic. This is the same material used for crowns and replacement teeth, such as bridges and dentures. The material can handle daily bite forces and pressure, and we can color-match it to blend with your tooth. This makes the largest portion of your braces blend with your smile, leaving only the thin metal arch visible, which is connected with a clear band.
If you have any questions about our cosmetic approach to correcting misalignment, then contact our team today to learn more. We want to help smiles of all ages, from kids to adults, enjoy better oral health!
Talk to Your Shirley, NY, Orthodontist and Pediatric Dentist Soon
Our team wants to help kids, teens, and even adults enjoy good oral health. To learn more about how we address uneven smiles with metal orthodontics, then contact Shirley Orthodontics and Pediatric Dentistry in Shirley, NY, by calling (631) 399-1600.