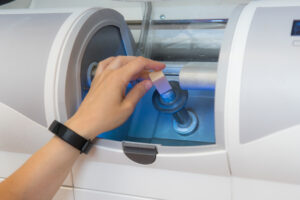 At one time, everything from creating crowns to fabricating orthodontics would rely on a physical impression. While effective, our team is proud to offer a digital alternative, one that provides better precision and accuracy. In today's blog, your Shirley, NY, pediatric dentist and orthodontist talks about iTero® digital scanners.
Physical Impressions
The process of obtaining a physical impression would involve filling a metal mold with a stocky, poor-tasting material. Sure, the material claimed to have flavors, but that didn't make the process enjoyable. The patient would bite down and hold the bite for several minutes. Often, the process had to be repeated to obtain a viable impression. But our team doesn't rely on these anymore, instead we use a digital option, one that is far more accurate and precise.
The iTero® Scanner
The process involves taking pictures of different parts of your smile from different angles, using a tiny digital camera at the end of a thin wand to obtain these quickly and comfortably. Once we do, we can combine these images to create a 3D computer impression, one more detailed and precise than the older physical versions. This enables us to design and craft treatment options with better quality and accuracy. As part of this process, we also take digital x-rays, which don't require uncomfortable bit wings, use a fraction of the radiation, and are available instantly chairside, so we can walk you through the diagnosis.
Moving Forward with Treatment
We use the impression to design the restoration or orthodontics, and then it will be 3D printed on site. Which means we can offer quality restorations in a shorter time frame, often in one visit. For example, we can create crowns for smiles of all ages, and design custom retainers. For those with braces, we can create ceramic brackets that blend with the smile. For people undergoing treatment with Invisalign®, this helps craft custom and comfortable aligners.
If you have any questions about the technology we use, and how this can help improve the health, beauty, and fusion of your smile, then contact our team today to learn more. We want to help transform smiles for both children and adults, with a custom and personalized approach to orthodontics.
Make a Checkup Visit with Your Shirley, NY, Orthodontist and Pediatric Dentist
We can use technology to offer care with better precision and accuracy, whether your child needs a restoration or a retainer or space maintainer. To learn more about how we use advanced technology to treat smiles of all ages with accuracy and precision, then contact Shirley Orthodontics and Pediatric Dentistry in Shirley, NY, by calling (631) 399-1600. Now is a great time to start your child's treatment, schedule an appointment before they start back to school!