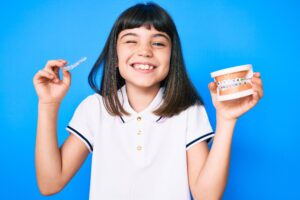 When you have uneven smiles, this could mean serious trouble for your oral health. Dental malocclusion, or misalignment, causes trouble for children, teens, and adults alike, and could even cause long-term problems too. In today's blog, your Shirley, NY, pediatric dentist and orthodontist talks about why misalignment needs to be corrected.
The Causes of Poor Alignment in Childhood and Adulthood
Why do our teeth become uneven? Malocclusion could begin in childhood, the result of premature loss of primary teeth, which in turn causes problems with the arrival of the permanent ones. Other factors include issues with the growth of the jawbone, or thumb sucking or tongue thrusting. In the teen and adult years, losing teeth to injury or poor oral health could cause the remaining ones to begin drifting from position as a result of this gap, causing crooked, crowded, or overlapping teeth. As part of your treatment, we will examine your smile to determine the cause and assess the severity, recommending the most appropriate treatments option!
The Long-Term Dangers
Without treatment, misalignment could allow food and drink particles to remain trapped and beyond the reach of a toothbrush or floss, which in turn increases the risk of tooth decay, gingivitis, and even gum disease. Dental misalignment could also strain the jaw joints and cause bite imbalance, which then increases the risk of painful disorders like TMD or even bruxism (chronic teeth grinding). This could leave your smile more vulnerable to periodontal troubles and tooth decay, impacting overall health, function, and stability. For this reason, we recommend treatment to address it. We can start this for patients as young as age seven using a phased approach. For teens and adults, we can correct smiles with a cosmetic approach.
Choosing the Right Treatment Option
For young children, we could use space maintainers to ensure permanent teeth arrive properly if a baby tooth is lost too soon. We also have retainers to help guide the growth of the smile and limit the impact of malocclusion. For teens and adults, we could use braces to address major causes of malocclusion. Instead of metal brackets, we could use tooth-colored ceramic ones, which can be shaded to blend with the smile and offer a lifelike appearance. We also have Invisalign®, which employs clear and cozy plastic aligners to correct the position of your teeth! If you have any questions about the treatment we offer for kids, teens, and adults, then contact our team today.
See Your Shirley, NY, Orthodontist and Pediatric Dentist Today
We want to help you and your family maintain good oral health and even smiles. To learn more about correcting malocclusion in patients of all ages, then contact Shirley Orthodontics and Pediatric Dentistry in Shirley, NY, by calling (631) 399-1600.