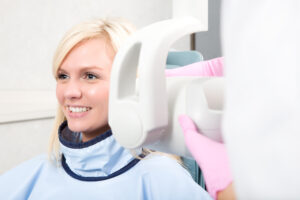 We offer an array of pediatric and orthodontic care for kids, and adults too. But to ensure care is comfortable and provided with accuracy and precision, we will employ advanced technologies. In today's blog, your Shirley, NY, pediatric dentist and orthodontist will discuss the benefits of digital x-rays and iTero® digital imaging.
Digital X-Rays
Digital x-rays offer a number of benefits for our patients, from kids to adults. This system doesn't require a lengthy time to develop images, and doesn't need harsh chemicals as part of the responses either. Instead, all images are available instantly chairside. The digital option makes gathering the images much more comfortable, as you no longer need to bite down on those unwieldy bitewings. We can see these chairside and walk you through the diagnostic process, and their great detail means identifying issues in the earliest stages, and planning treatment with greater accuracy and precision. Not to mention, it uses 90% less radiation than the traditional options!
iTero®
The iTero® system is a unique way to create computer impressions of your smile. Physical impressions are a pain to create, as the patients need to bite down on a metal mold filled with a gooey material, and mold this for several minutes. Instead, we can use a tiny digital camera at the end of a very thin wand to take multiple images of your smile from several angles, and do so quickly and comfortably. We then combine these to create the models used to design and fabricate dental crown, TMJ and bruxism appliances, and even replacement teeth, such as bridges, dentures, and dental implant restorations. We can also plan the creation of orthodontics, such as ceramic tooth-colored brackets for braces, or our Invisalign® aligners. We can help young children by creating custom retainers and space maintainers.
Checkups and Cleanings
If you or your children haven't seen the dentist or orthodontist in several years, why not schedule an appointment today? A checkup and cleaning means we can examine your smile with some of the technologies we've discussed, and identify areas of concern that may need attention. We also clean the teeth, removing the harmful plaque and tartar that can increase the risk of cavities and gum disease. If you have any questions about our dental and orthodontic technologies and treatments, or if you would like to arrange a visit for you or a member of your family, then contact our team today to learn more.
Make an Appointment with Your Shirley, NY, Orthodontist and Pediatric Dentist
Our team wants to offer treatment and care with precision and accuracy. To learn more about the systems and technologies we use, then contact Shirley Orthodontics and Pediatric Dentistry in Shirley, NY, by calling (631) 399-1600.