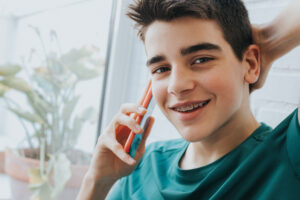 When you have a child with signs of developing misalignment, bring him or her to us for an exam. As young as age seven, we can start treating misalignment with a phased approach, which could include braces. In today's blog, your Shirley, NY, dentist talks about correcting misalignment with our metal or ceramic braces.
The Dangers of Your Little One's Uneven Teeth
When a kid begins to show uneven teeth, whether this means crooked teeth or crowded and overlapping, this could cause problems with their oral health. Uneven teeth have been linked to an increased risk of tooth decay and gum disease, as food particles remain trapped even if your child brushes and flosses, allowing bacteria to consume them and create plaque buildup. For others, misalignment upsets the balance of the bite, so as they grow older the risk of TMJ disorder and bruxism (teeth grinding) increases. The risk of sleep apnea in adulthood is higher too, as misalignment is often linked to issues with the growth and development of oral structures, issues that could also restrict breathing at night. Finally, your little one could simply feel embarrassed about his or her smile, impacting self-confidence levels.
Braces
When we sit your child down, we will use advanced digital imaging technologies to create a precise diagnosis, identifying the cause and extent of misalignment with precision. From there, we can create a treatment plan. For very young children, this could mean retainers and teeth spacers to help guide the smile. For older kids and teens, we could begin with braces. The process involves applying a bracket to the front of each tooth, and then connecting a portion of an arch wire to each one. When we adjust tension in the wire, this begins to move the teeth into optimal positions, usually in about two years. They obtain an even smile that they can't wait to show off, while also enjoying better oral health too.
A Cosmetic Approach to Braces
We know few kids are excited about braces worrying about how it will alter thief appearance during treatment. But we could minimize their visibility with ceramic brackets. Instead of using metal, we craft them from ceramic since this material can actually be shaded to blend with the tooth. We then connect the arch wire to them with a clear band, limiting how visible they are. We can help you decide if this is the best option for your child!
Your Shirley, NY, Orthodontist and Pediatric Dentist Offers Straighter Smiles
Our team wants to help kids of all ages enjoy better oral health with straighter teeth. To learn more about how we address minor and severe misalignment in childhood and teen years, then contact Shirley Orthodontics and Pediatric Dentistry in Shirley, NY, by calling (631) 399-1600.