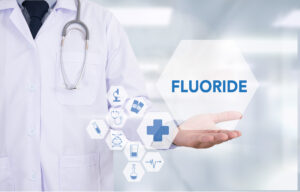 When we see your children for a checkup, we also take time to offer a fluoride treatment. This helps strengthen your child's defenses against the onset of tooth decay. In today's blog, your Shirley, NY, pediatric dentist talks about how we use fluoride to lower the risk of cavities and safeguard little smiles!
What is Fluoride?
Essentially, this is a unique mineral that occurs in nature, but has been shown to strengthen tooth enamel. Decades ago, scientists discovered that communities who had fluoride in their water supply had much lower rates of tooth decay compared to other areas, even if they didn't have regular dental care. Since then, experts have figured out how to add safe amounts to drinking water and even toothpastes to lower cavity rates in people of all ages.  We can help our young patients with treatments during their checkup and cleaning visits.
Treatments Every Six Months
We want to see you every six months for a checkup and cleaning, so we can keep a close eye on your smile and watch for the earliest indicators of trouble. We also clean the teeth, a procedure that removes all plaque and tartar to prevent cavities and even gum disease. But we also apply a special fluoride gel to lower the risk of tooth decay. The entire process takes only a few minutes. We apply the gel directly to the teeth with a swab or possibly a tray placed in their mouth. Kids then need to avoid eating or drinking for 30 minutes. That's it! Then this helps shore up your child's natural defenses against the sonnet of painful cavities and infections.
Toothpaste
You can also help your child by picking a toothpaste for them that has fluoride on it. Look for this on the label, or for the American Dental Association's (ADA) Seal of Acceptance. This will help protect their smiles! Kids three and younger should use a rice-sized amount when they brush, and kids over the age of three should use a pea-sized amount. This also helps your smile too.
If you have any questions about caring for little smiles at home, or if you would like to schedule a checkup and cleaning visit, then contact our team today to learn more. We want to help your children enjoy good oral health and a smile that fills them with confidence.
Shirley, NY, Orthodontist and Pediatric Dentist Treats Your Child's Smile
Our team wants to help kids enjoy strong and healthy smiles, and a lowered risk of a dental cavity. To learn more about protecting children from issues like tooth decay or other common oral health concerns, then contact Shirley Orthodontics and Pediatric Dentistry in Shirley, NY, by calling (631) 399-1600.