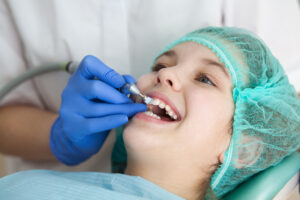 The outer enamel that coats your teeth protects your smile from painful problems like tooth decay and dental infection. But over time, multiple factors could begin to weaken and erode this layer. To help protect your child's smile, your Shirley, NY, pediatric dentist and orthodontist talks about strengthening smiles with dental fluoride.
What is Fluoride?
Fluoride is a natural-occurring mineral, one that has been shown to actually strengthen the outer layer of tooth enamel, the layer that protects your teeth from tooth decay and infection. For this reason, many communities have added it to tap water and reduced the rate of tooth decay in their area in all ages. The dentist also applies this to the surfaces of little smiles to help protect them from the onset of tooth decay!
Applying the Varnish
We can apply the material during your child's routine six-month checkup and cleaning visit. To begin, we will gently apply a fluoride gel to the teeth with a swab, brush, or possibly a set of trays. The application only takes a few minutes, and your child should avoid eating or drinking for about 30 minutes. The material then helps shore up your smile's natural defenses against tooth decay. In the same visit, we could also discuss another layer of protection for the molars. These rear teeth are hard for kids to reach when they brush and floss, so applying a dental sealant keeps food from becoming stuck between them. Again, this application only takes minutes. While kids need another fluoride application during each visit, dental sealants can stay in place for up to 10 years in some cases.
Toothpaste
Your child should also use a toothpaste that contains the same ingredients. This could provide further protection when they brush each morning and again at night. For kids three and younger, a rice-sized amount should be used, and kids over the age of three should use a pea-sized blot. Look for fluoride on the packaging, or for the American Dental Association's Seal of Acceptance. Then make sure your kids brush twice a day for at least two minutes. This also benefits you as well!
If you have any questions about how we treat little smiles and protect them from the onset of cavities, or if you would like to schedule their next checkup and cleaning visit, then contact our team today. We would love to help your little ones enjoy good oral health and brighter smiles throughout their childhood.
Talk to Your Shirley, NY, Orthodontist and Pediatric Dentist Today
Our team wants to help shore up your smile's natural defenses. To learn more about our protecting little smiles, then contact Shirley Orthodontics and Pediatric Dentistry in Shirley, NY, by calling (631) 399-1600.