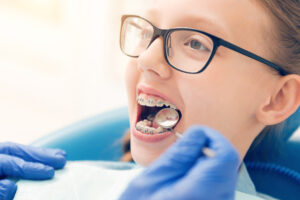 When your child begins to develop crooked, crowded, or overlapping teeth, this could cause trouble in childhood but also poorer oral health in their teen and adult years. Which is why even as young as age seven, your Shirley, NY, pediatric dentist and orthodontist could help correct uneven smiles and prevent the factors behind misalignment as well.
The Causes and Dangers of Misalignment
Misalignment means that different factors have caused the teeth to become uneven, sitting crooked in the smile or crowding and overlapping one another. This obviously has an impact on smile esthetics, and could lead to issues with self-confidence. But other than that, an uneven smile makes thorough brushing and flossing difficult, leading to an increased risk of tooth decay, infection, and gingivitis. In adulthood, this could mean a greater risk of gum disease, TMJ disorder, bruxism (teeth grinding), and even sleep apnea for some. The causes could include premature tooth loss, thumb sucking, and issues with the growth and development of the jaw and oral structures.
Orthodontic Treatment
Orthodontic treatment is employed to shift the teeth and correct their position in the smile. For young children, we could use a phased approach to prevent worsening misalignment and guide the growth of the smile until they're ready for braces or Invisalign aligners. These could include space maintainers if teeth have been prematurely lost, or a retainer. As your child approaches the teen years, we could use braces or aligners to complete their treatment, offering a straighter smile. Each treatment plan will be tailored specifically to your child's smile, helping them enjoy good oral health and a perfect smile! Don't let these grow worse before you give our team a call.
Pediatric Dentistry
We also help with pediatric dentistry. Often, misalignment develops due to premature loss of baby teeth, which could occur due to advanced decay or infection. To help prevent these issues from developing, we could offer routine dental cleanings, or strengthen the outer enamel with a fluoride gel. We also have dental sealants that coat the rear teeth and prevent decay from forming in the hard-to-reach portions of the smile. If you want to help improve your child's oral health and treat developing misalignment before it worsens, then give us a call to schedule a consultation. We're here for any questions or concerns you may have, and we want to help your children enjoy their best possible smiles!
Talk to Your Shirley, NY, Orthodontist and Pediatric Dentist Today
We can help kids of all ages enjoy even and healthier smiles with our phased approach to treatment. To learn more about correcting dental misalignment in childhood and avoiding major oral health complications, then contact Shirley Orthodontics and Pediatric Dentistry in Shirley, NY, by calling (631) 399-1600.