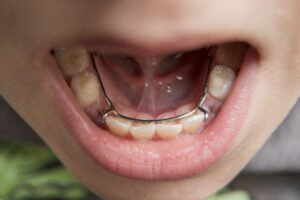 When a child loses a baby tooth prematurely, this does more than just leave a gap behind. This development could alter the alignment of the smile, and even start complications that could lead to the need for braces. In today's blog, your Shirley, NY, dentist talks about how we use space maintainers to prevent these issues.
Tooth Loss and Misalignment
The baby teeth in your child's smile are meant to fall out at specific times, as the baby teeth on either side of them help guide the permanent teeth into proper position. However, when a child loses a baby tooth prematurely to injury or tooth decay, this could alter how the permanent teeth erupt. The result could be serious misalignment, which will need major orthodontic intervention to treat in the later years, and could cause complications with the health, function, and appearance of the smile. Which is why when a tooth is lost prematurely, we want to help limit the risk of misalignment with space maintainers.
Space Maintainers
Also known as teeth spacers, these are a common treatment used in pediatric dentistry to help protect little smiles. They keep the space open to prevent the teeth from shifting, and to ensure the permanent teeth still erupt and are properly guided in place. We have uniliteral options that attach to one side of the tooth, or bilateral ones attached to both sides. Some are removable like retainers, while others are fixed in place. When possible, we prefer the fixed options and provide detailed instructions to ensure your children brush and floss properly around them. You will also need to bring your little one in for a checkup and cleaning every six months, so we can monitor the smile carefully!
Getting Started
Getting started is easy! Just bring your child in for a checkup and cleaning, so we can take a close look at the smile with advanced digital technology. We will assess the causes of the tooth loss, so we can offer treatment to help prevent this from occurring again. Preventive treatments like dental sealants and fluoride gel are often helpful in this process. We will then choose the best pediatric orthodontic treatment option. If you have any questions about how we treat dental misalignment and prevent major complications from developing, then contact our team today. We look forward to helping your children enjoy strong, healthy smiles, ones that stay bright and instill confidence!
Talk to Your Shirley, NY, Orthodontist and Pediatric Dentist About Orthodontics
Our team wants to help your kids avoid the complications of a prematurely lost tooth, and lower their risk of misalignment. To learn more about our approach to children's orthodontics and pediatric dentistry, then contact Shirley Orthodontics and Pediatric Dentistry in Shirley, NY, by calling (631) 399-1600.