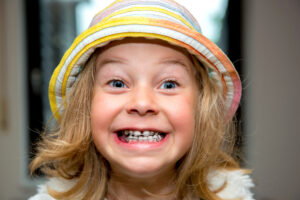 Starting treatment for dental misalignment and malocclusion in the early years is very beneficial. In fact, we could start treatment as young as age seven in some cases. In today's blog, your Shirley, NY, orthodontist and pediatric dentist talks about what to expect from the first phase of your child's treatment. 
Examining the Smile and Planning Treatment
During your child's first visit, we will gather a series of detailed digital x-rays and intraoral camera images of the teeth, gums, jaw, and skull. These will allow us to assess the factors behind the developing misalignment, and create a treatment to help guide the growth of the smile. We also sit down to help you navigate your dental insurance or to create a payment plan that works with your budget. From there, we will create a treatment plan tailored to your child;'s smile. We recommend a dental visit at around age seven. Your little one has a mix of baby teeth and permanent ones, and we can better assess the need for treatment. 
Helping a Smile Grow
At this stage, we want to not only keep misalignment from growing worse, but also guide the development of the jaw and the eruption of the permanent teeth, which helps limit it and could correct some of the issues as treatment progresses. The actual orthodontics we use will vary from patient to patient, depending on their unique situation. We may prescribe a custom-made retainer, or we could place teeth spacers as well.
The Next Phase
Phase I is all about making sure the baby teeth fall out on time and that the permanent teeth erupt properly, leaving room for future orthodontic treatment. For Phase II, we could use braces or possibly Invisalign aligners to begin shifting the permanent teeth and correcting misalignment. We could use tooth-colored ceramic brackets to make the braces less visible, and for minor cases we could prescribe Invisalign aligners, which are completely clear. We want to help your kid obtain an even and healthy smile that is ready to last them a lifetime. If you have any questions about our approach to children's orthodontics, or if you would like to schedule a consultation for your child or talk about payment and financing options, then contact our team today to get started. Now is a great time to discuss the best options for correcting misalignment and helping little smiles stay healthy, even, and strong! 
Call Your Shirley, NY, Pediatric Dentist Today
If you want to learn more about our first phase of treatment, then contact Shirley Orthodontics and Pediatric Dentistry in Shirley, NY, by calling (631) 399-1600. We're ready to help your child start a journey to an even smile.