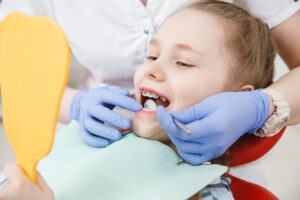 Starting care for misalignment in childhood could help guide the growth and development of your little one's smile, and help them enjoy better oral health in the teen and adult years too. In today's blog, your Shirley, NY, orthodontists and pediatric dentists talk about when children benefit from traditional braces.
The Benefit of Braces
When children begin to develop misalignment, this could be caused by baby teeth failing to fall out on time, or due to issues with the eruption of the permanent teeth. Other factors include thumb sucking and complications with the growth and development of the oral structures. Correcting these concerns means a lowered risk of tooth decay, dental infection, and gingivitis. Treatment now also limits the severity of misalignment, and limits the amount of time one may need braces or aligners in the teen years. With braces, we can correct more severe cases of misalignment and offer stunning new smiles!
Correcting Little Smiles
With braces, we attach brackets to the front facing sides of the teeth, and then connect an arch wire to them. Th ewire is affixed to the braces with a band, and the orthodontics may also need rubber bands as well. During routine visits to our office, we will adjust tension in the wire to gently and carefully reposition the teeth, correcting misalignment gradually. Treatment could take between 18 months and 2 years, depending on the extent of your child's misalignment. 
Colorful Bands and Ceramic Brackets
We know that metal orthodontics may not be exciting for children, but we have options to make them less visible or give fun flare! For example, instead of metal sometimes brackets may be created from ceramic and shaded to blend with the teeth. The ceramic ones are especially requested by our teeth patients, and often used for the upper row of teeth. If we do opt for the stainless steel option, we offer smaller options that are less noticeable. If your child wants to be noticed, then we can use bands that are colorful and can be changed during each visit. 
If you have any questions about how we help little smiles enjoy quality smile correction, or about our colorful or cosmetic options, then contact our team today. Now is a great time to start your child on his or her journey to an even and healthier smile! 
Contact Your Shirley, NY, Pediatric Dentist
If you want to learn more about the treatments we offer for kids of all ages, then contact Shirley Orthodontics and Pediatric Dentistry in Shirley, NY, by calling (631) 399-1600. We want to help families in our city and in surrounding communities enjoy optimal oral health and a beautiful smile with children's orthodontic care.