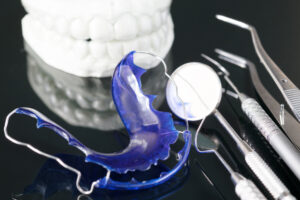 Our team can start care for children as young as age seven, helping them limit the severity of developing dental misalignment. These custom orthodontics appliances can help prevent major issues in later years. In today's blog, your Shirley, NY, pediatric dentist and orthodontist talks about our Phase I children's orthodontics.
When to Schedule a Consultation
Our team can see children as young as age seven. You may be referred to us by your general dentist, or you could give us a call if you notice your child exhibits signs of uneven teeth. During the consultation, we will take detailed digital x-rays and intraoral camera images of the smile from multiple angles, so we can see the teeth, roots, jaw, and oral structures, and assess the threat to their alignment. If treatment is necessary, we can start with the first phase of orthodontics to begin straightening the smile.
Creating Phase I Orthodontics
At such a young age, the smile is growing and changing quickly. With our Phase I appliances, our team will use custom oral appliances to help guide this process to ensure the smile can accommodate the permanent teeth, and to limit the severity of misalignment. We could use space maintainers if there are open spaces caused by premature tooth loss, ensuring the permanent teeth can erupt without complication. We also have custom retainers to help guide the growth of the smile. Both options are custom-fitted for your child and they can be fixed in place or removable. When possible, we tend to recommend fixed to prevent them from accidentally being misplaced by your children.
The Next Step
Your children will wear the first phase during their early childhood. But the second phase begins in the teen years and completes the process, so they start their teen or adult years with an even and healthy smile. We will begin this portion once all permanent teeth erupt and their surfaces properly calcify. We then offer braces or possibly even Invisalign® aligners to begin gently and carefully shifting the teeth into proper position. An even smile is one that is easy to brush and floss, and one that inspires confidence too. Your kids are less likely to develop concerns like tooth decay, gingivitis, and even TMD and bruxism (teeth grinding).
If you have any questions about correcting uneven smiles in childhood, then contact our team today to learn more.
Your Shirley, NY, Orthodontist and Pediatric Dentist Provides Children's Orthodontics    
We're ready to help your kids enjoy good oral health and even smiles with custom treatments. To learn more about treatments for little smiles and get started with their treatment, then contact Shirley Orthodontics and Pediatric Dentistry in Shirley, NY, by calling (631) 399-1600.