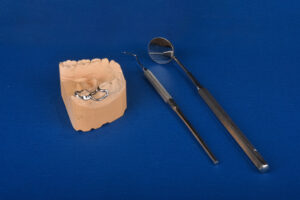 When your children lose a baby tooth too soon, this could alter how your permanent teeth erupt. Which means the risk of dental misalignment and malocclusion could increase! Fortunately, your Shirley, NY, pediatric dentist and orthodontist could help prevent uneven smiles with a custom space maintainer.
Tooth Loss and Misalignment
How does tooth loss lead to misalignment? Well, when a child loses a baby tooth on time, there are primary teeth on either side of the gap, which helps guide the permanent tooth into proper position and prevents misalignment. But when a tooth is lost early, this changes how the permanent ones arrive and increases the risk of crooked teeth or crowding. In addition, the teeth on each side of the gap could drift due to the open spaces, which again changes how your permanent teeth arrive. But with a space maintainer, we can keep this gap open and prevent changes in alignment.
Designing an Appliance
First, our team will take detailed digital images of the teeth to assess the risk for misalignment and the factors behind your child's alignment concerns. We then use these in a lab setting to design and fabricate the oral appliance. The space maintainer will attach to one or both sides of the mouth, and can be fixed in place or removable. We tend to opt for fixed so there is less risk of a child losing the appliance. We will discuss how to craft the appliance and give tips for brushing and flossing around it. This can help guide the new teeth into place properly protecting the balance of the bite, chewing function, and overall alignment.
The Second Phase of Treatment
Often, space maintainers, like retainers, are part of the first phase of orthodontic treatment for children. Phase one orthodontics are designed to help guide the growth and development of the smile to limit the severity of dental misalignment and prevent malocclusion. Once children are ready for the second phase, meaning their permanent teeth erupt and the surfaces properly calcify, we can move on with the second phase, which could involve braces or even Invisalign® aligners. If you have any questions about how we help improve the alignment of a child's smile, or about the benefits of an even smile, then contact our team today to learn more. We can often start treatment as early as age seven for children!
Your Shirley, NY, Orthodontist and Pediatric Dentist Offers Children's Orthodontics    
We would love to help your children avoid the onset of dental alignment issues with our phased orthodontics. So, they enjoy their best possible smiles. To learn more about our phased orthodontics for kids or to arrange for their next consultation, then contact Shirley Orthodontics and Pediatric Dentistry in Shirley, NY, by calling (631) 399-1600.